I'm so excited to be doing a giveaway for MUSE & BLOOMS!
I'm giving away a FREE ticket to MUSE AND BLOOMS for you OR a friend!!!
This event is completely sold out!!! (And yes, I'm going!!)
To be entered to win, you must complete all of the following:
1. Like Hydrangea Bloom on Facebook and @hydrangeabloomia on Instagram
2. Leave a comment on the blog post featuring Allison, the owner.
3. Comment when you've completed both steps with the following info: your IG username, your email address (to confirm your blog post comment), and your FAVORITE flower!!!
If you haven't met Allison with Hydrangea Bloom, you are missing out!  This talented entrepreneur is an incredible floral designer and designs some of the most beautiful floral arrangements for weddings!
We were chatting one day about her brand and the image she was trying to convey and the idea of "Lifestyle Branding Experience" was born! Branding is everything… and I'm so excited to be offering this service to business owners who crave photographs in stunning, bright color and that offer a laid back, professional look with plenty of personality added in.
I'm so thankful for Allison believing in my work and allowing me to help her take her business to the next level.
Below is a review from her experience!
Florals: Hydrangea Bloom
Makeup: Lindsey Faber: Makeup Artist
Hair: Rhiannon at Lavish Beauty
Model: Erin Dittmer, All-inspired Wellness
On-shoulder wedding dress: Brides by Jessa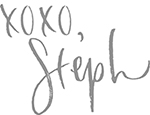 __________________________________________________________________________________________________________________________________
I decided to do the branding experience with Stephanie because I wanted to have consistency in my brand and really be able to show what Hydrangea Bloom is about.  I believe that  Hydrangea Bloom is so much more than a product/service. I saw Stephanie's work and I knew she could deliver on the aesthetic I was going for.  She not only captured beautiful photos but she captured my personality and helped my brand come alive in still images! I am so in love with the photos that I already have booked her for another session.  She took my brand an captured it beyond my expectations!
Hydrangea Bloom is an Event floral design company that specializes in wedding floral design. Hydrangea Bloom became in exsistance because I saw a need for a better, more personalized wedding floral experience.  I wanted to brides to look back on their planning and have floral design be one of their most memorable experiences. I wanted each meeting to be fun and personalized, that's why we meet for coffee, lunch, or even happy hour (my personal fav). Most often are brides have dreamed about their wedding day since they were a little girl and we want to take those dreams and inspirations and make them become reality.  We will work with you every step of the way to develop and tailor your wedding design.  Our bridal bouquets are the pride and joy of Hydrangea Bloom and the reaction of when we deliver a one of a kind bridal bouquet is pure bliss.  When you work with Hydrangea Bloom you are definitely getting way more than just flowers you are becoming Hydrangea Bloom family.