Cody and Emily both grew up in rural Solon, Iowa, a town of about 2,000. Their families have known each other for years, but it wasn't until much later that Cody and Emily would really get to know each other.
Emily and Cody's families used to trail ride together long before they ever started dating. Emily's parents were even in attendance at Cody's parents wedding! Cody is 5 years older than Emily, so they weren't close in school but Cody can remember coming to Wears Auctioneering auctions with his dad as a kid and being fascinated by how fast Brent could talk & Emily remembers going to football games in middle school and watching number 44 score touchdown after touchdown.
It seems that their relationship is a match made in heaven, it just took them a few years for their paths to cross again. Both Emily and Cody love the West, but in the end they found themselves back in the small town of Solon.
After graduating from high school, Cody moved to Cheyenne, Wyoming to rodeo and attended Laramie County Community College. After graduating from LCCC with an Ag Business degree, Cody moved to Salmon, Idaho. He lived in Salmon for almost 8 years working as a ranch hand and running cattle in the area with his cousin.
After 7 years of ranching, he decided to try his hand in the professional rodeo arena. Thus started Cody's career as a PRCA steer wrestler, keeping him on the road at least 250 days a year for the last 3 years.
Emily's life took her in a similar direction after high school; she went West. After spending a year at the University of Northern Iowa, she decided to pack up and move out to Laramie, Wyoming to attend the University of Wyoming. After 4 years in pursuit of a Business Management degree, she graduated and moved to Buffalo, Wyoming. Emily lived there for a year working as a waitress, doing leather work and working auctions whenever she could. After a year in Buffalo, she decided to try and pursue the auction career more aggressively, an objective that took her to Cheyenne where she started doing online auction with friends in the area.
Cheyenne ended up being the link that eventually brought Cody and Emily together.
In June of 2015 Emily was overseas in Thailand and India to attend a friend's wedding, it was there that Cody and her started talking and catching up on years missed. Upon returning to the States, Cody happened to be in Greeley for a rodeo with a few extra days to spend relaxing (a luxury that is very few and far between in his line of work). They decided to meet for dinner and catch up.
It didn't take long after that and they were dating and one year later and they were engaged!
Huge thanks to the following businesses for being a part of their big day:
Shoes – Western Wears
Menswear – Bauman's of Mt. Vernon
Flowers – E's Florals + Kroul Farms
Venues – Private residence + Regal Crown ReceptionsTents – Big Ten Rentals
Catering – Ruzicka Catering
Cake – Hy-Vee
Music /DJ – Live Band – Lonesome Road
Hair – Kati Burns – 965 Salon & Spa
Makeup – Cult Beauty by Liv
Rings – Etsy + Vintage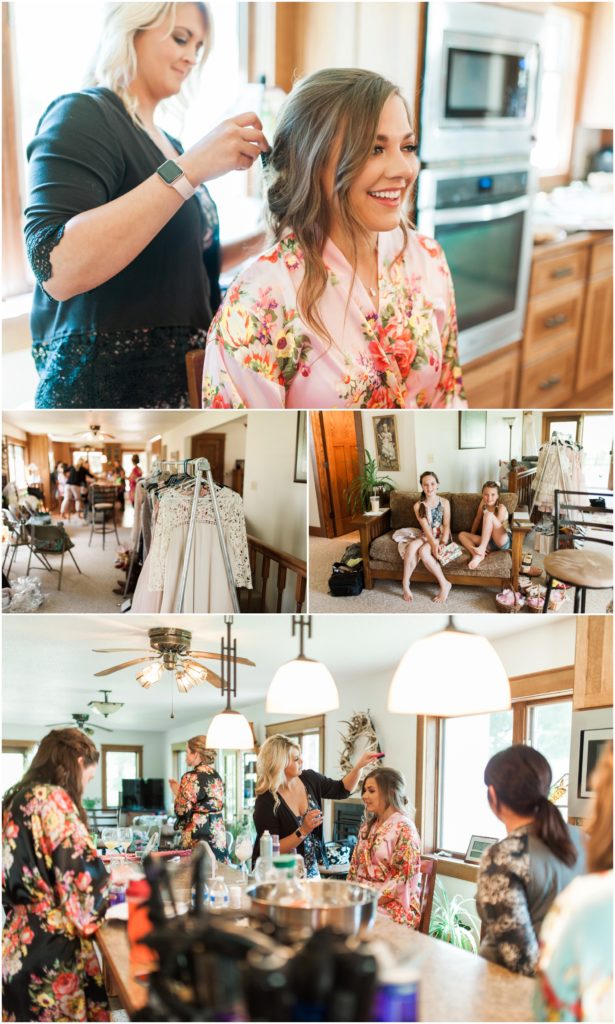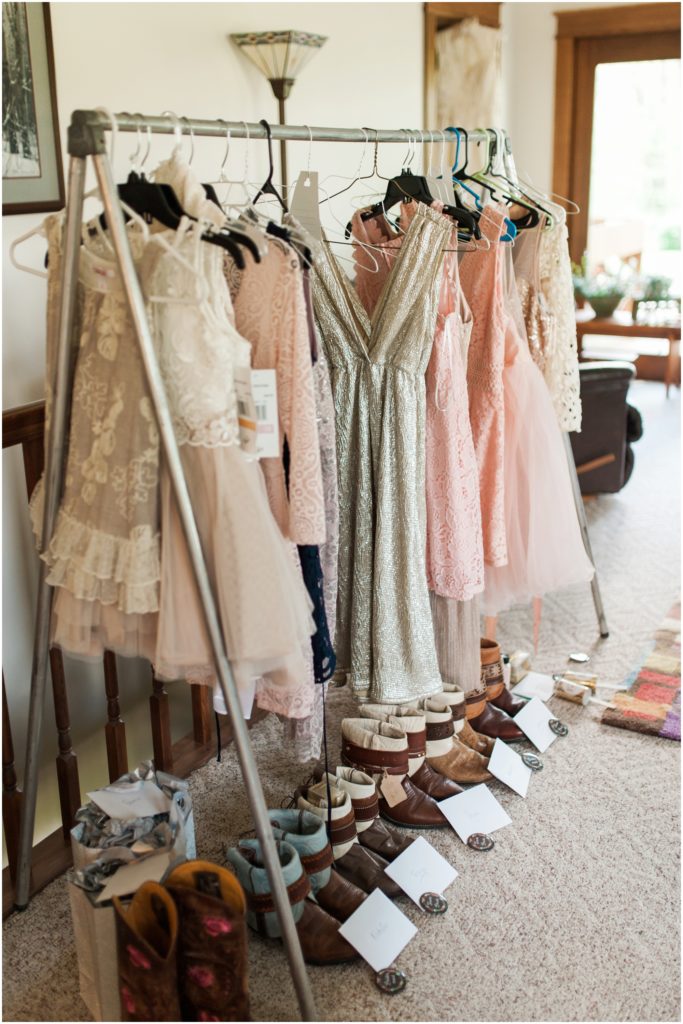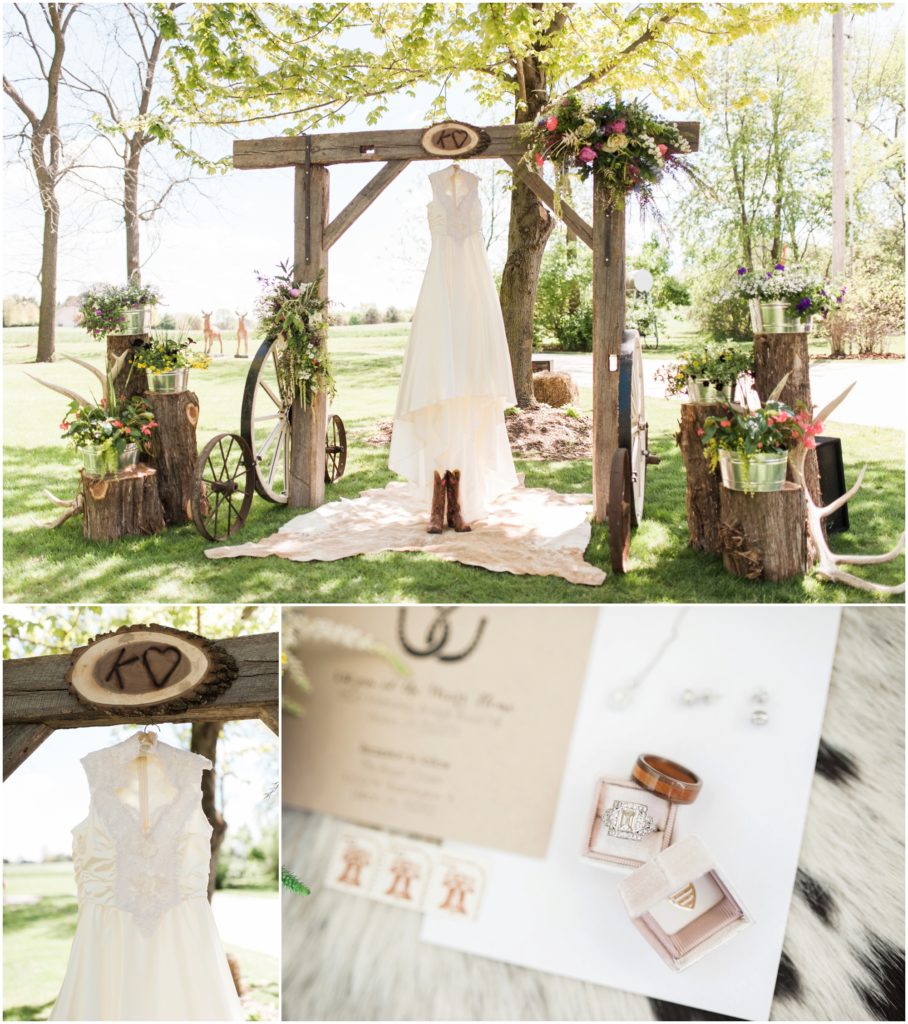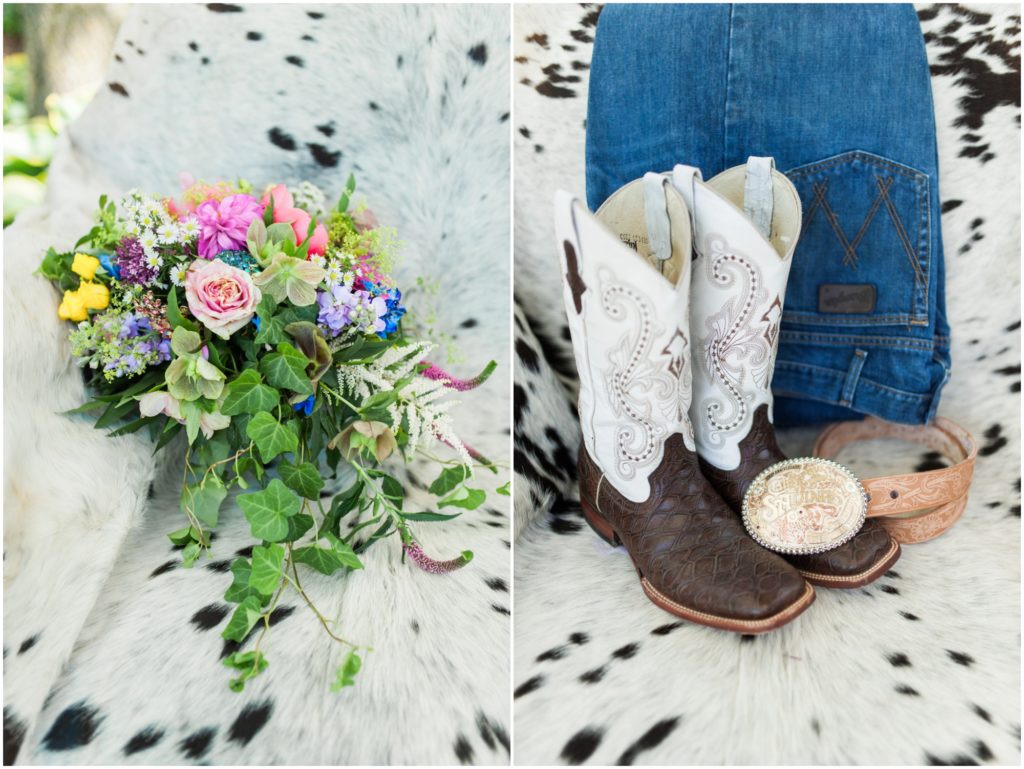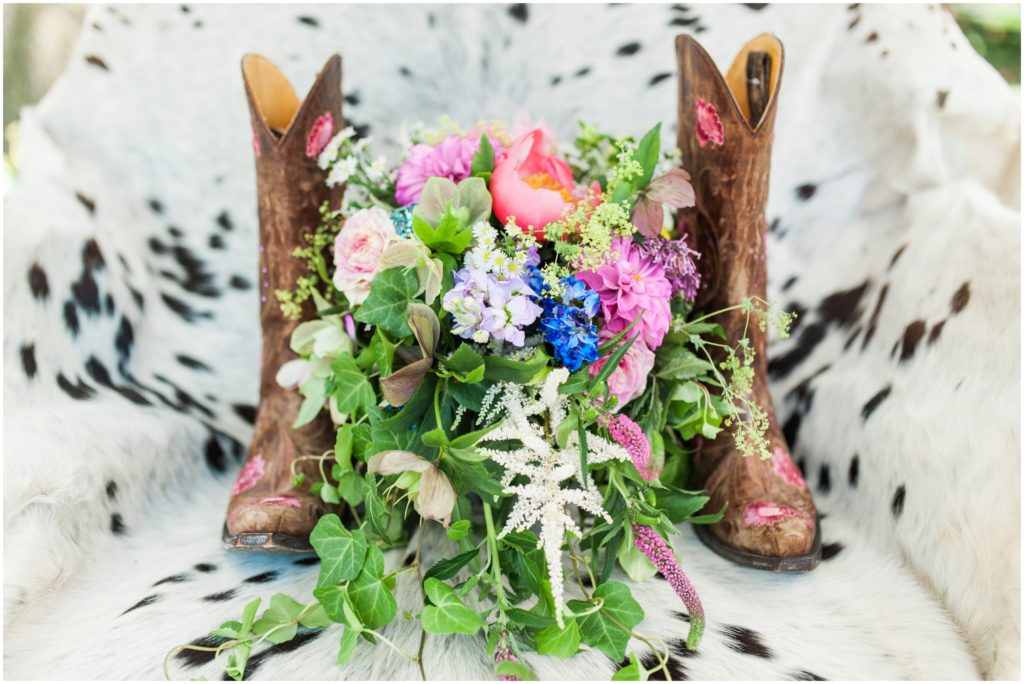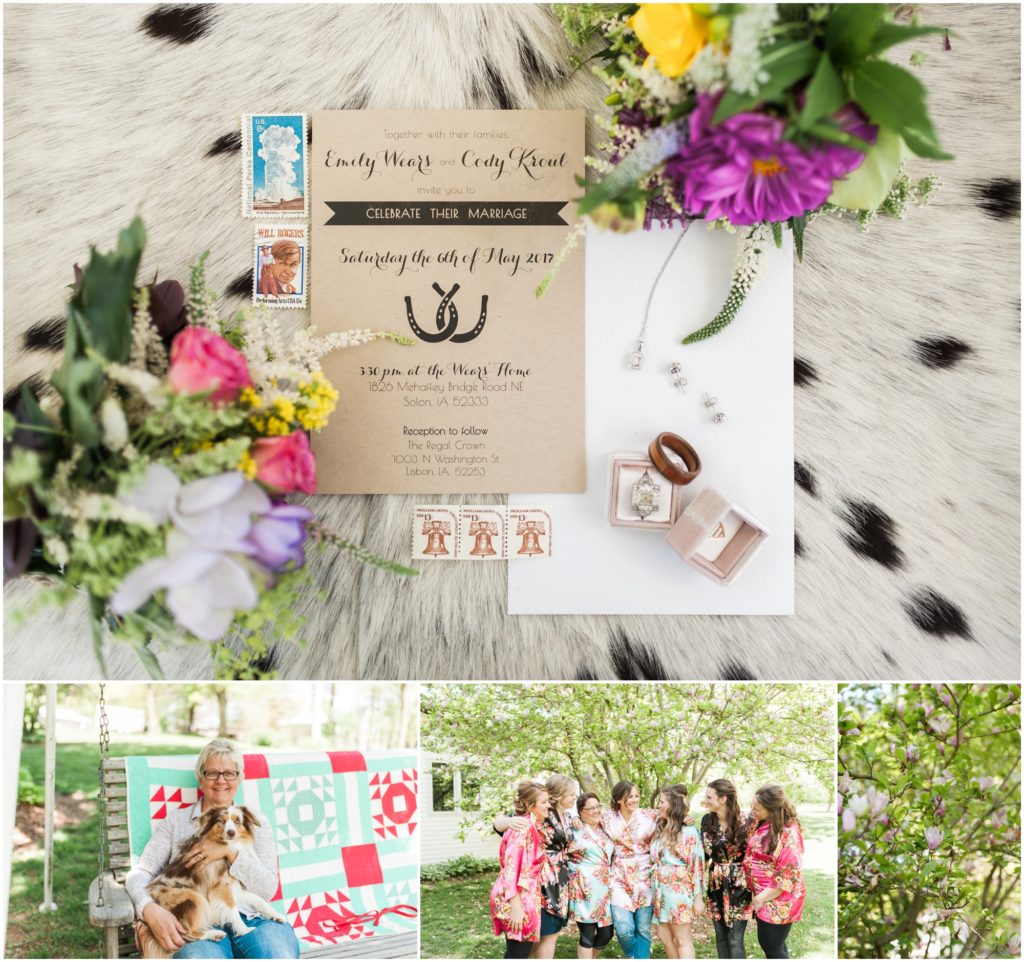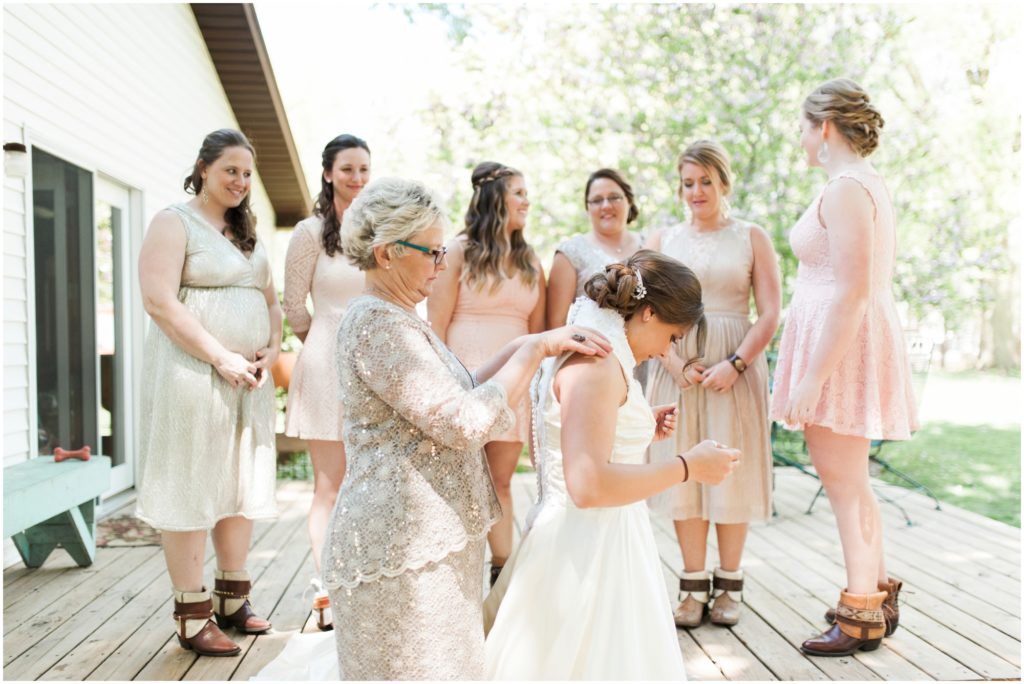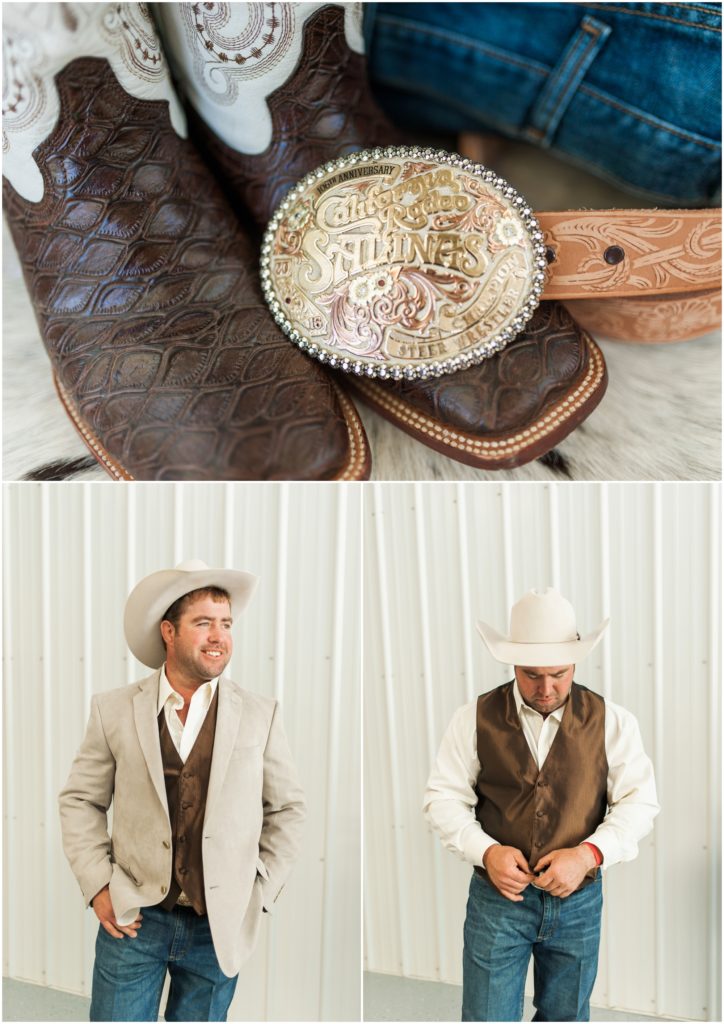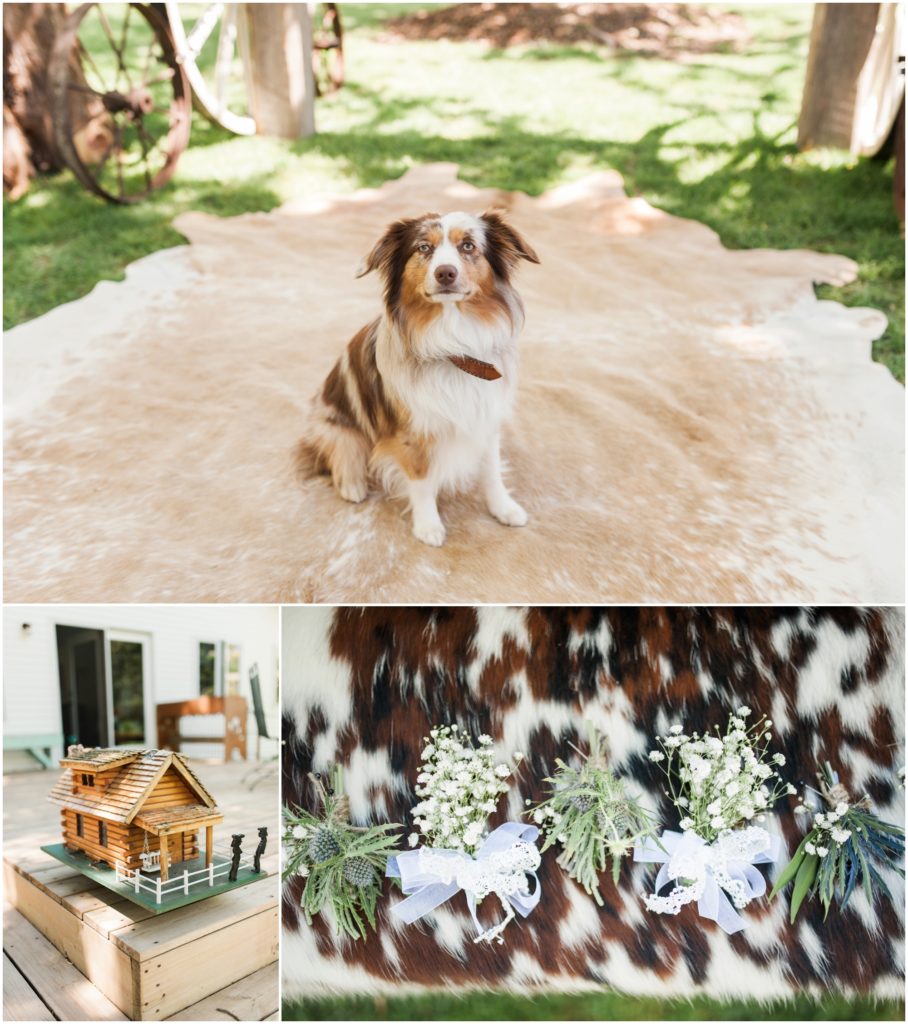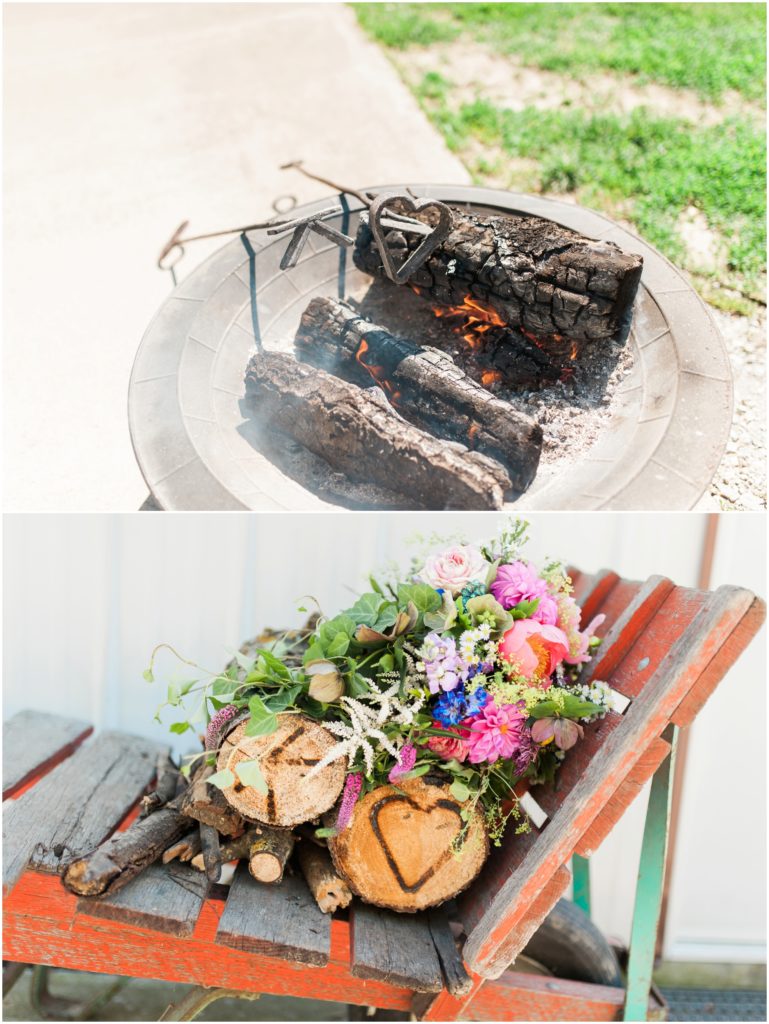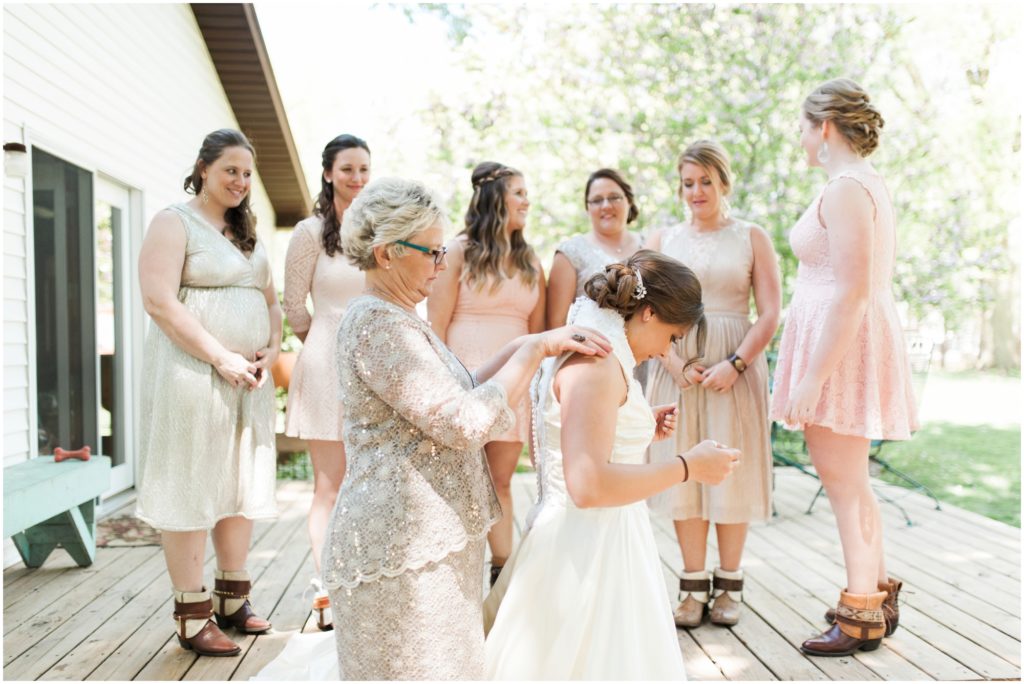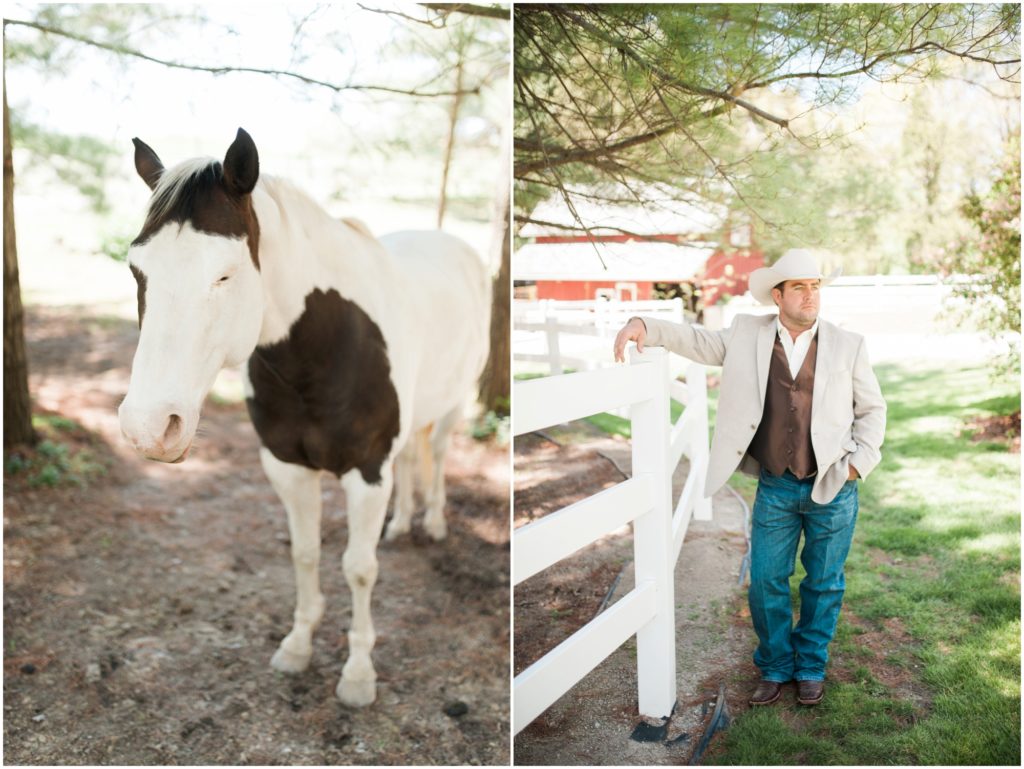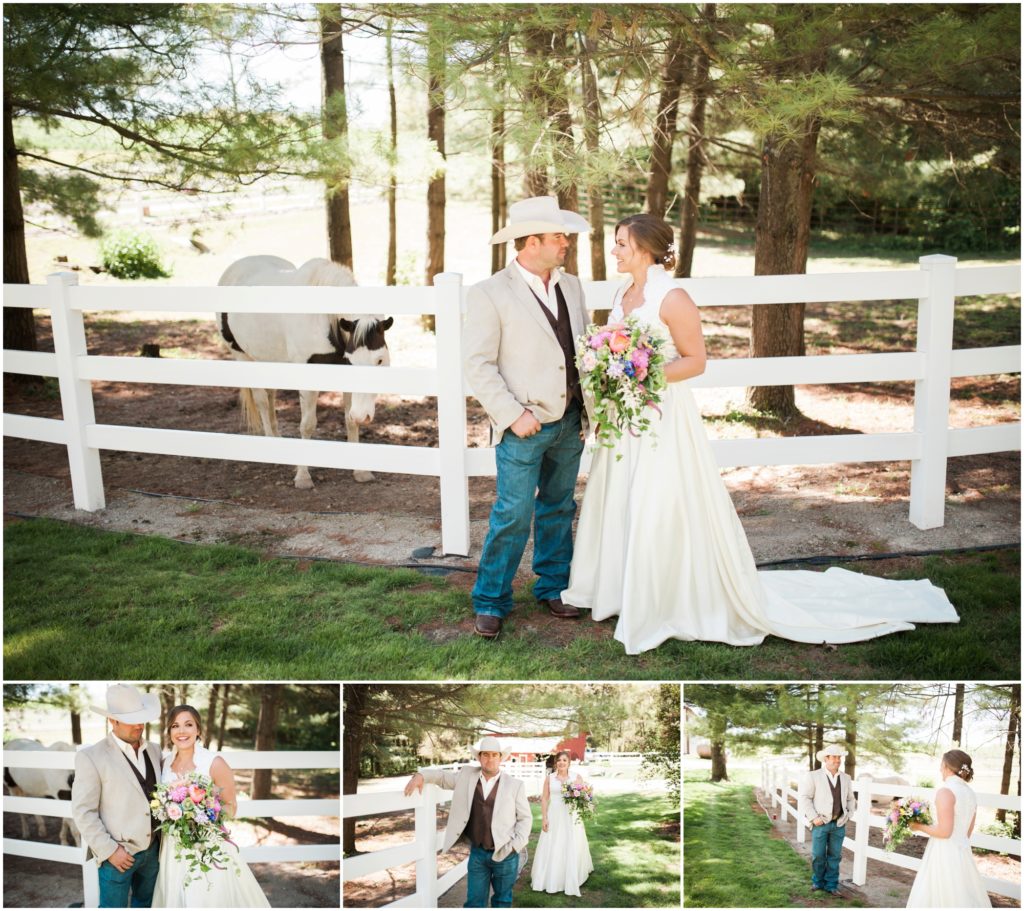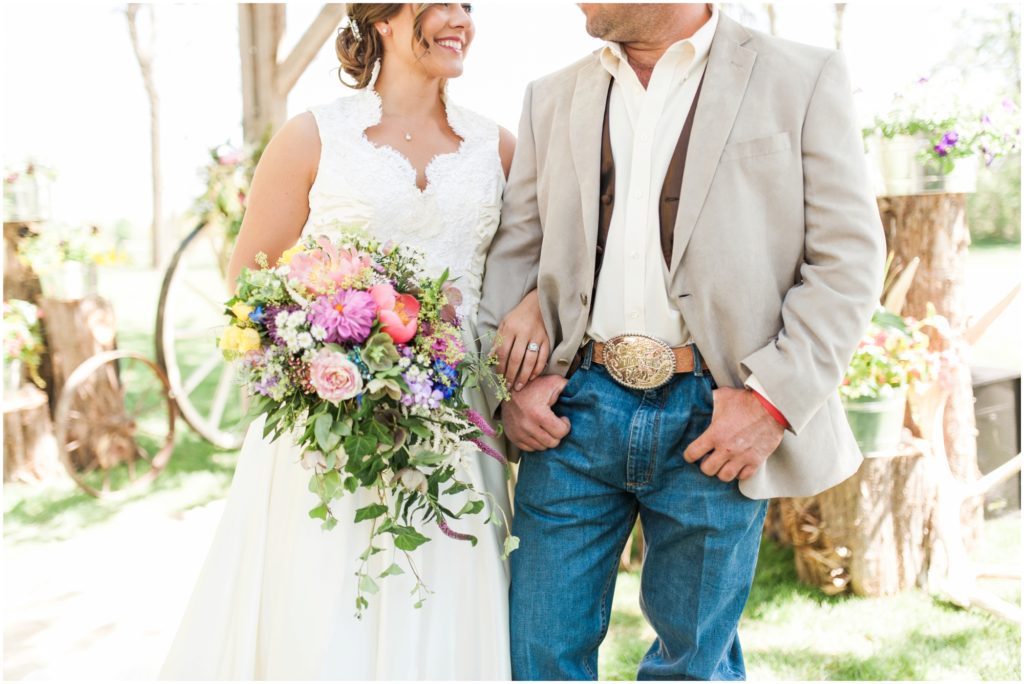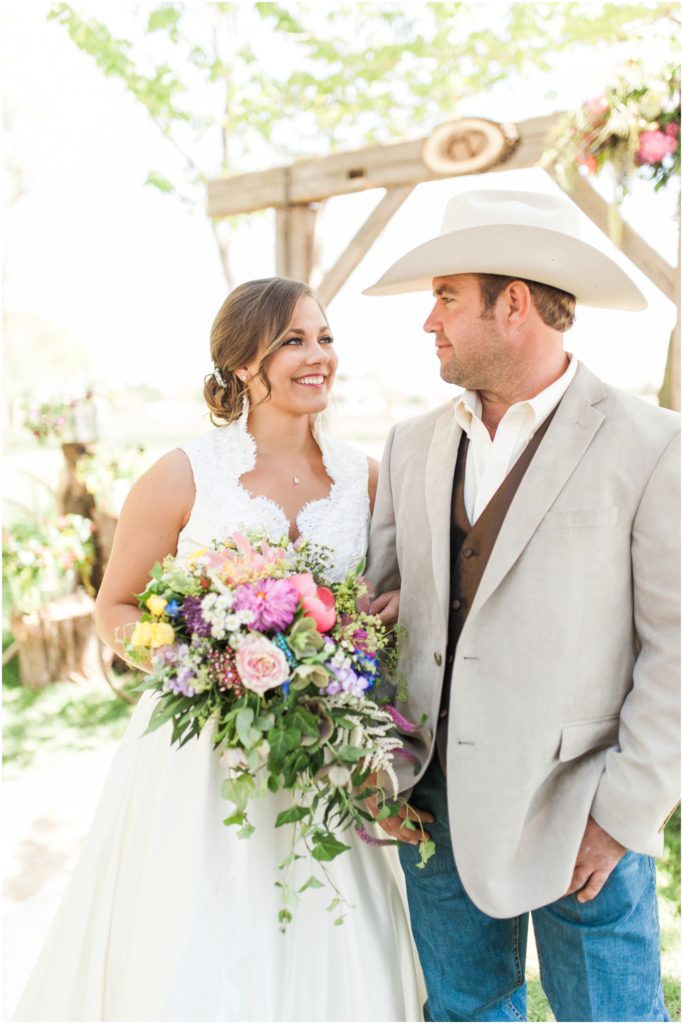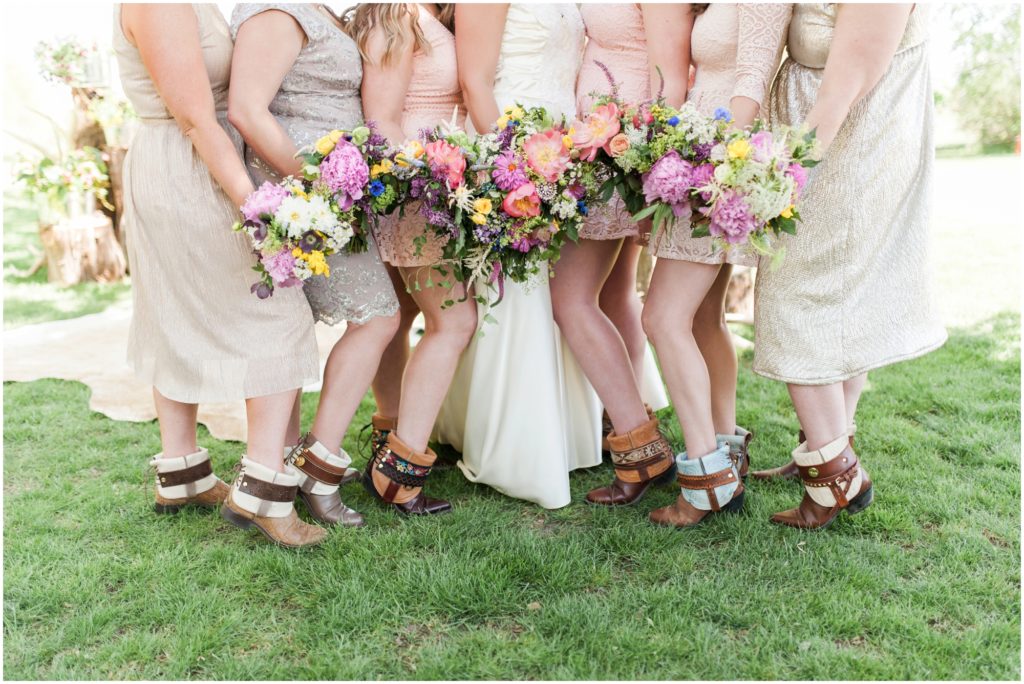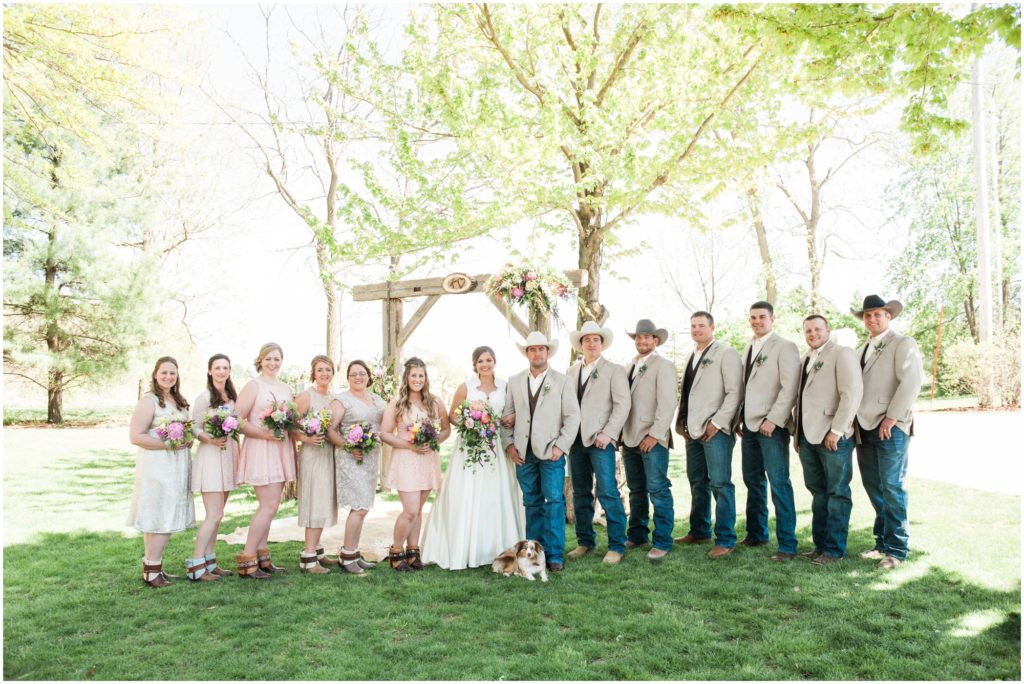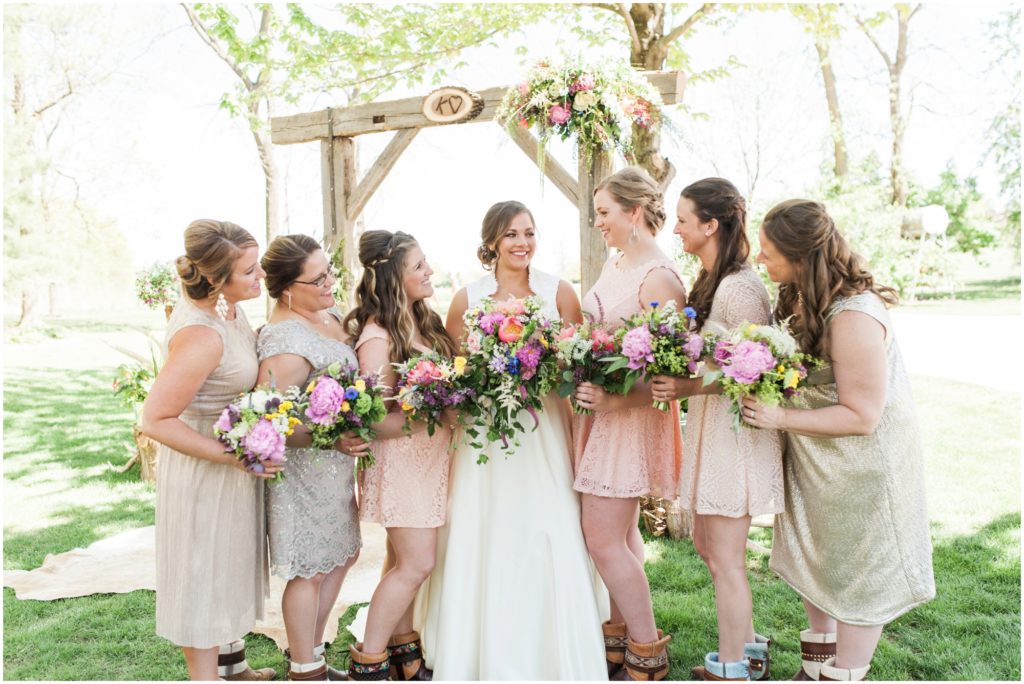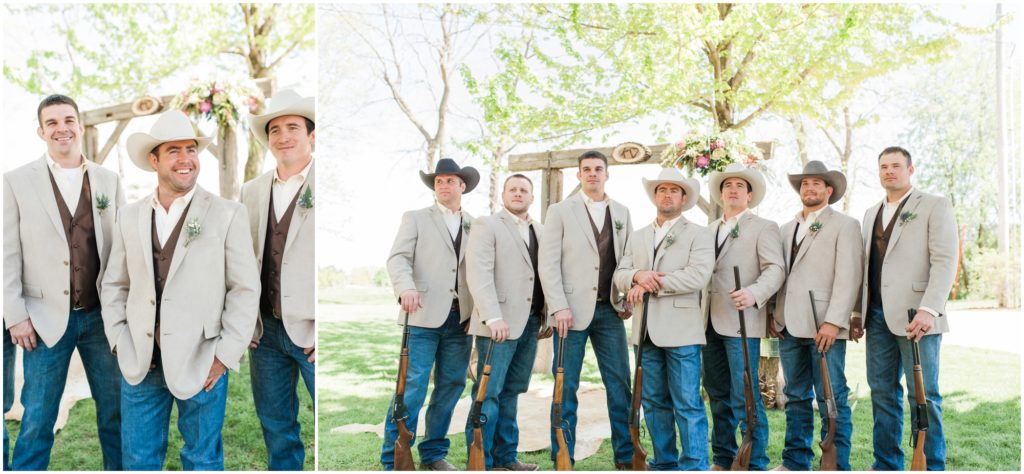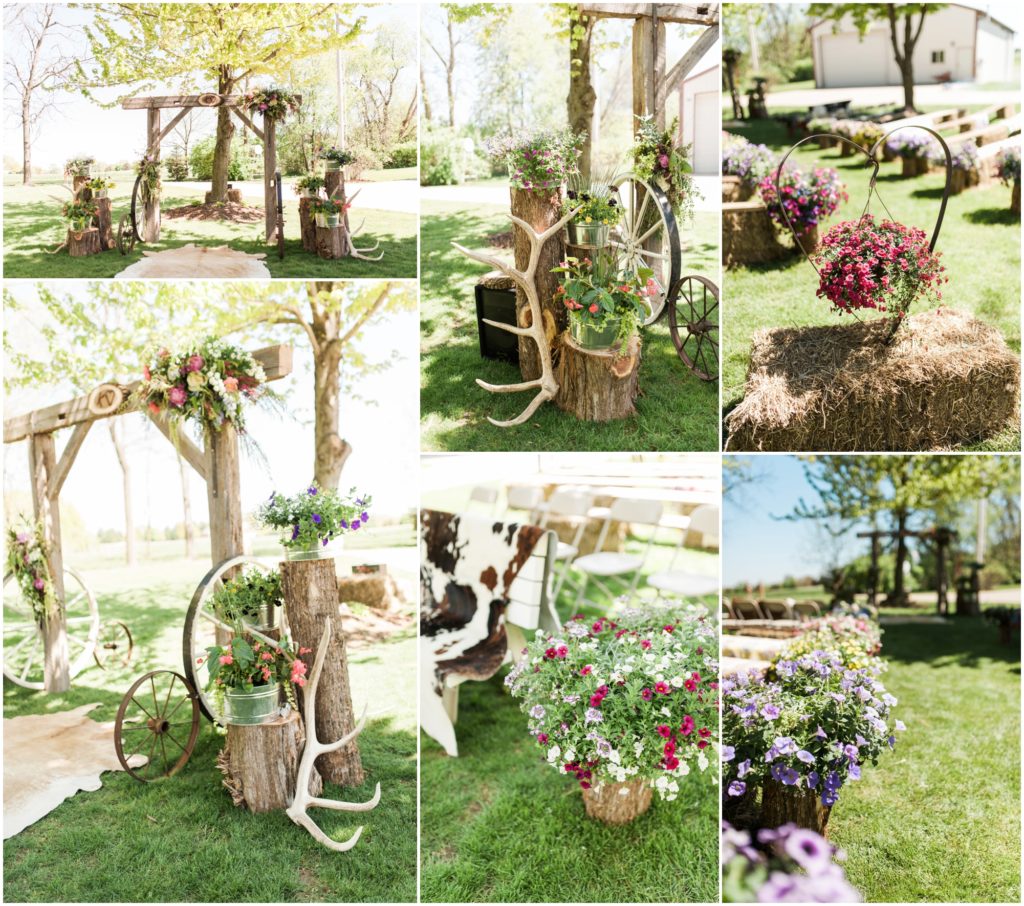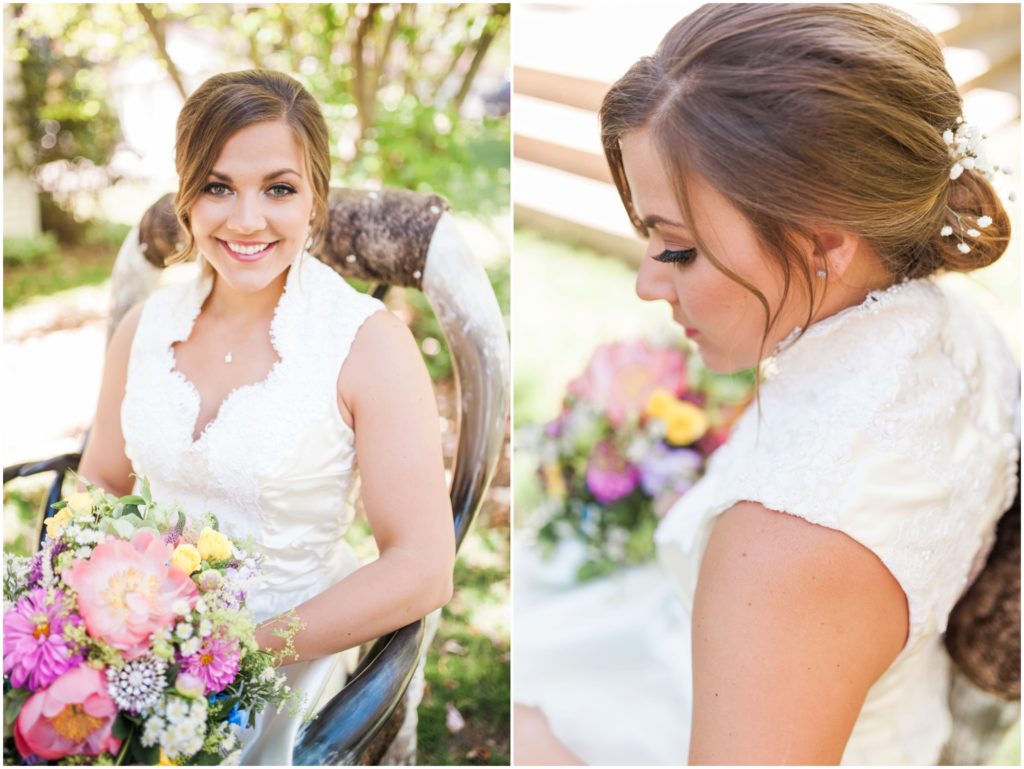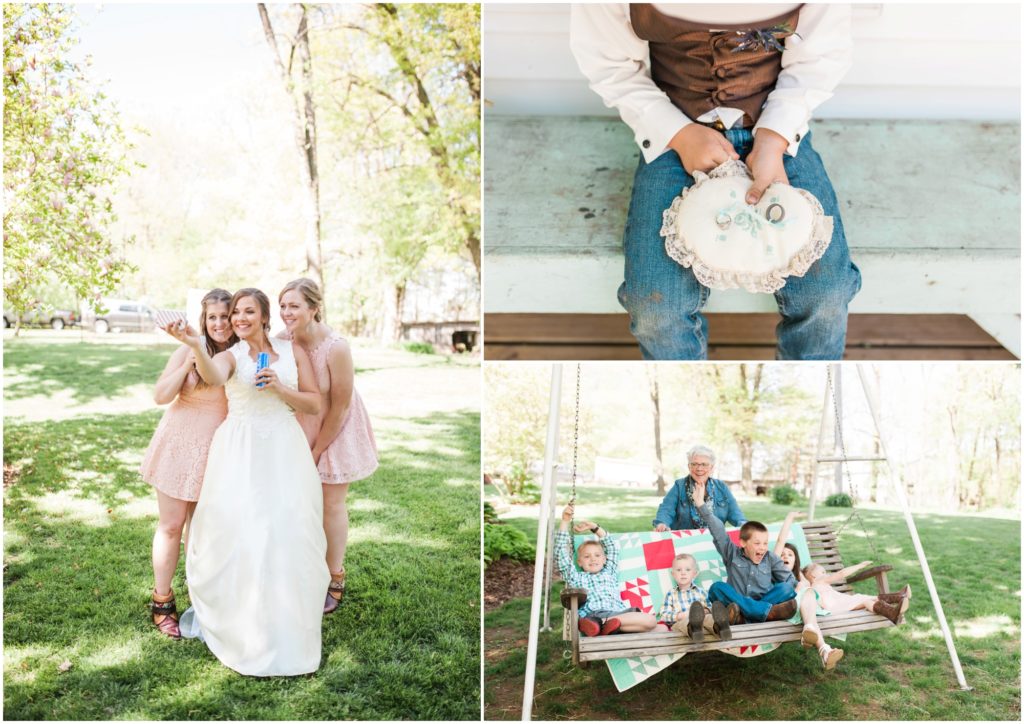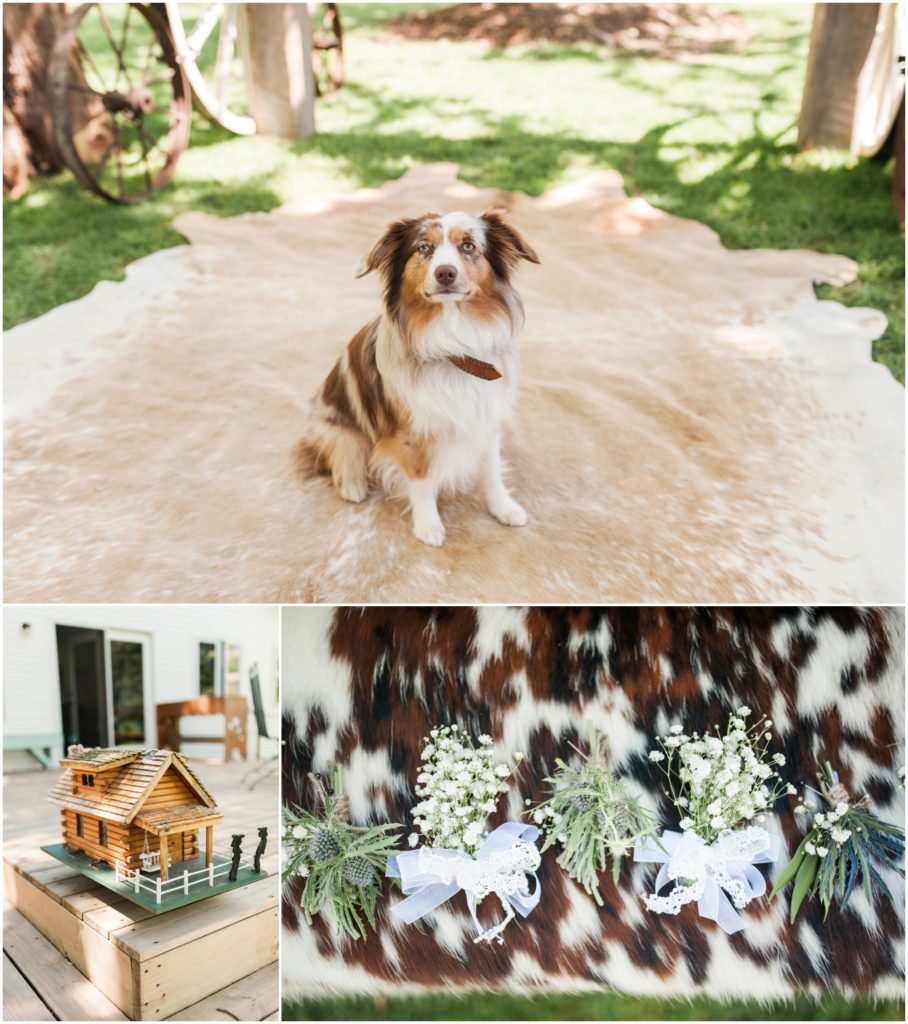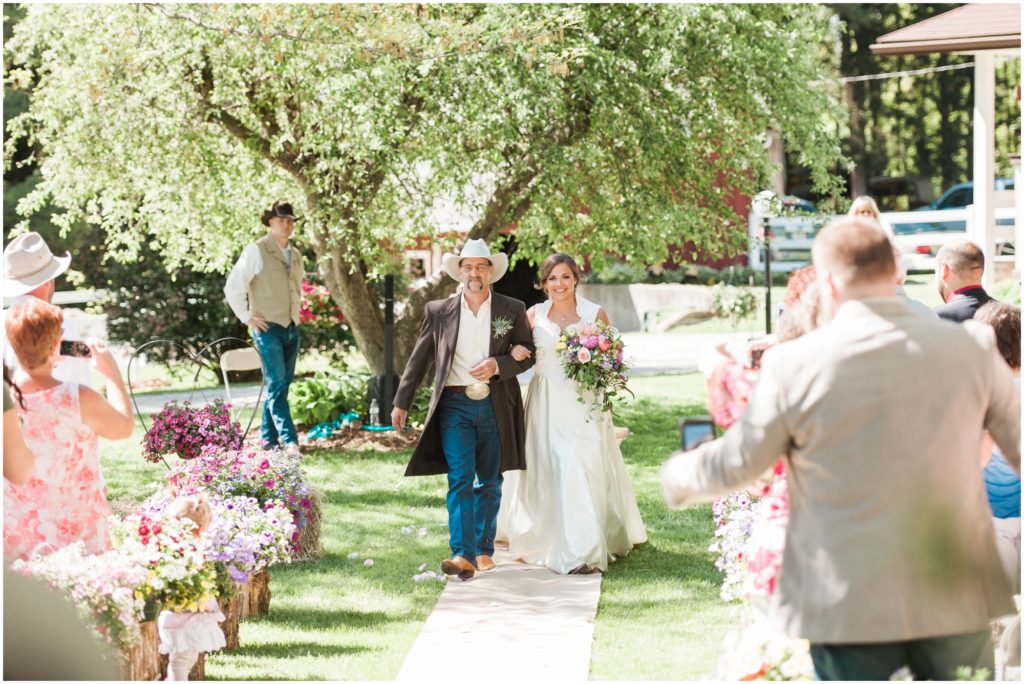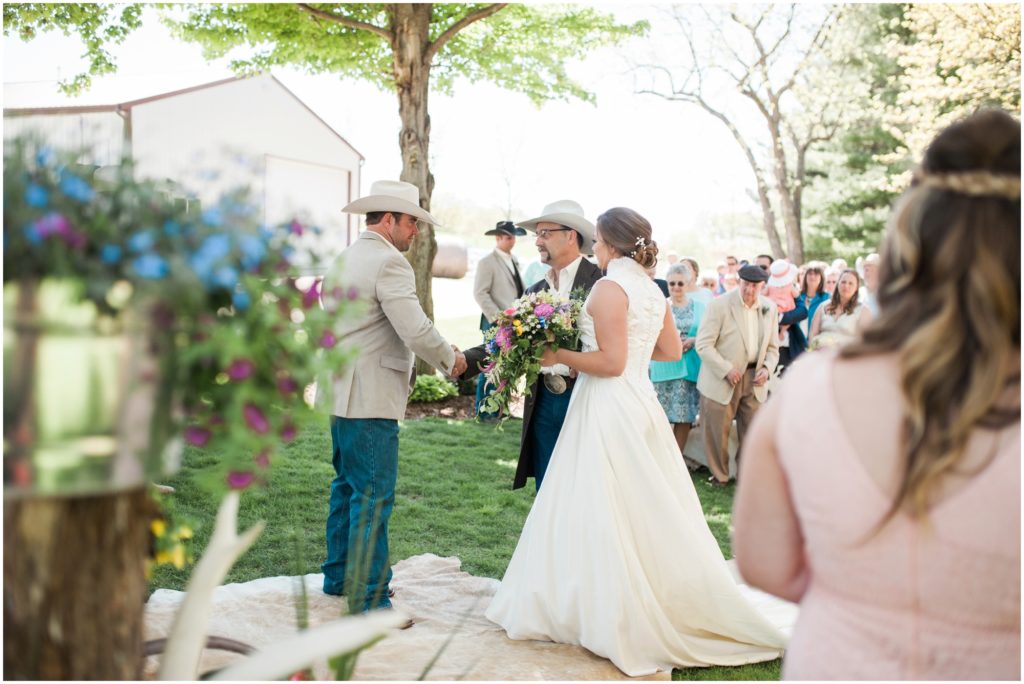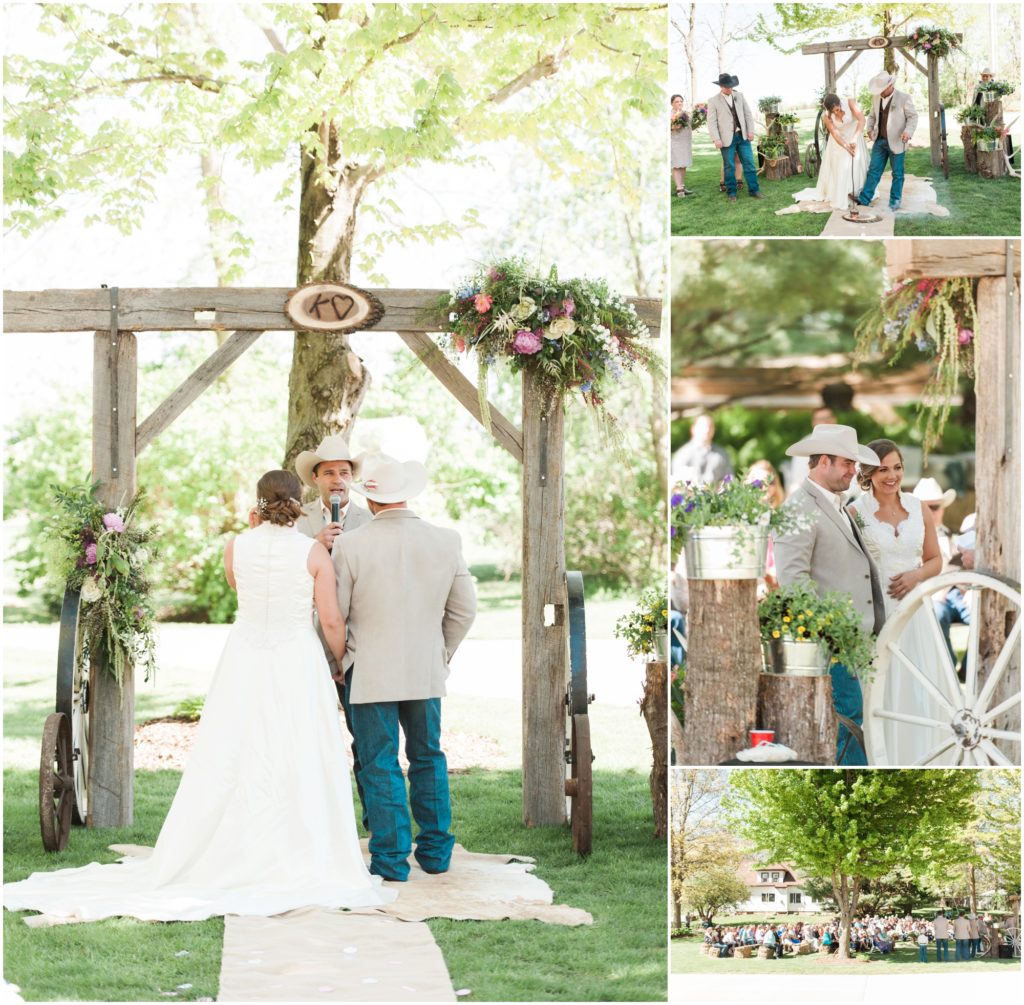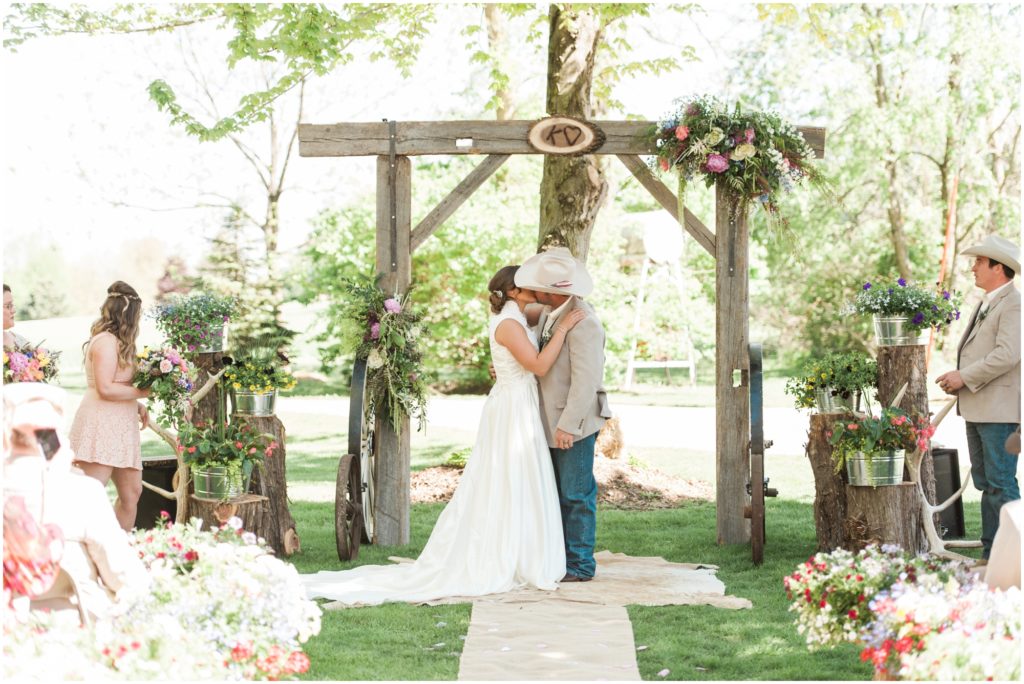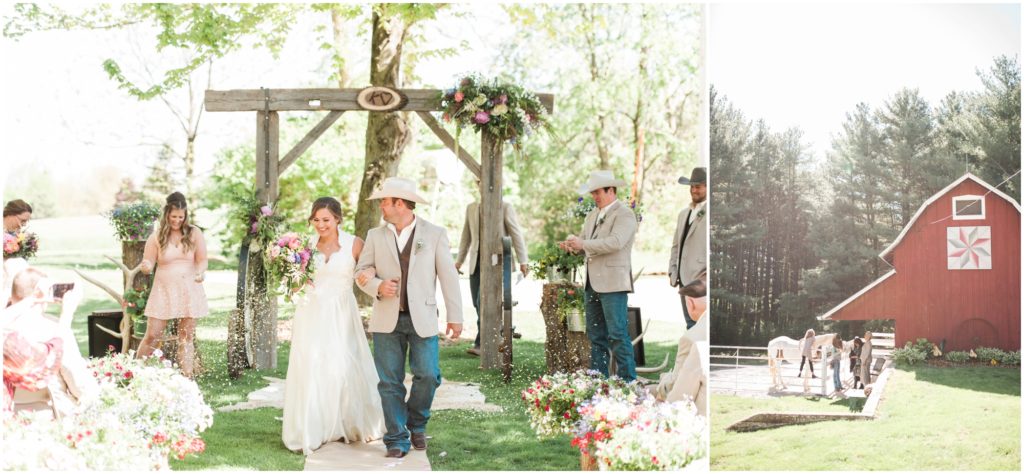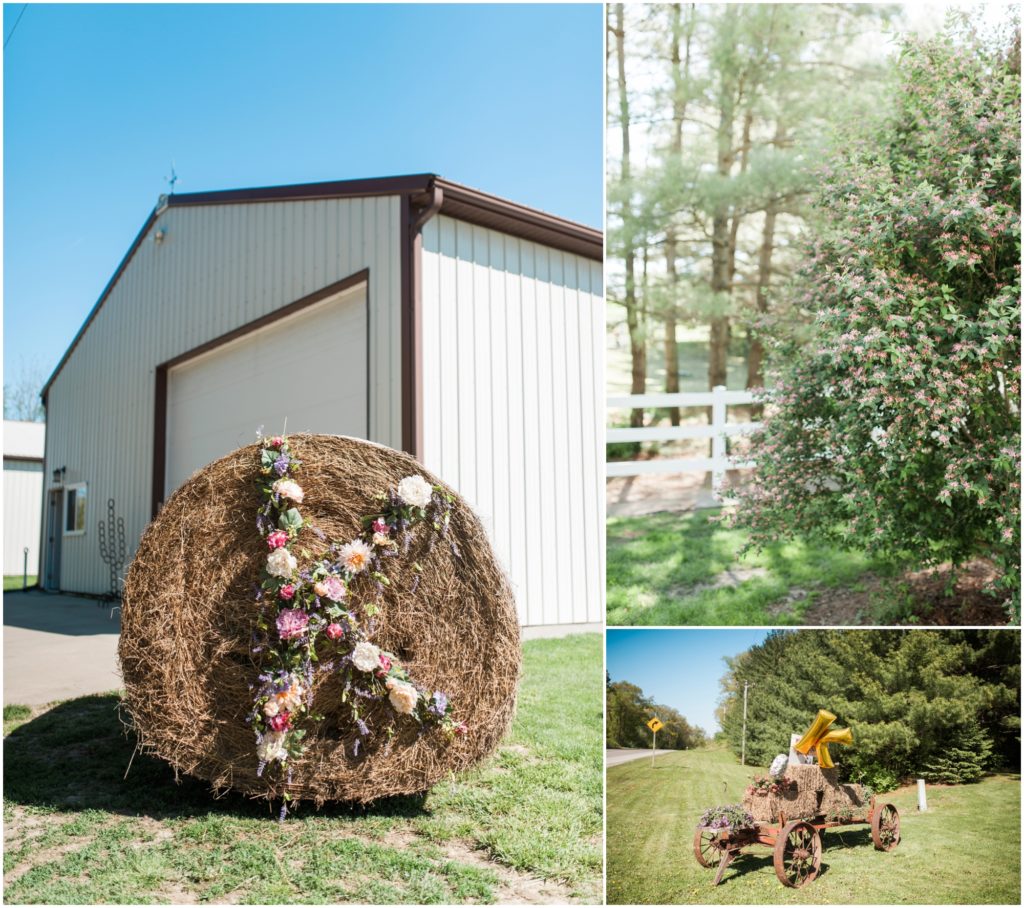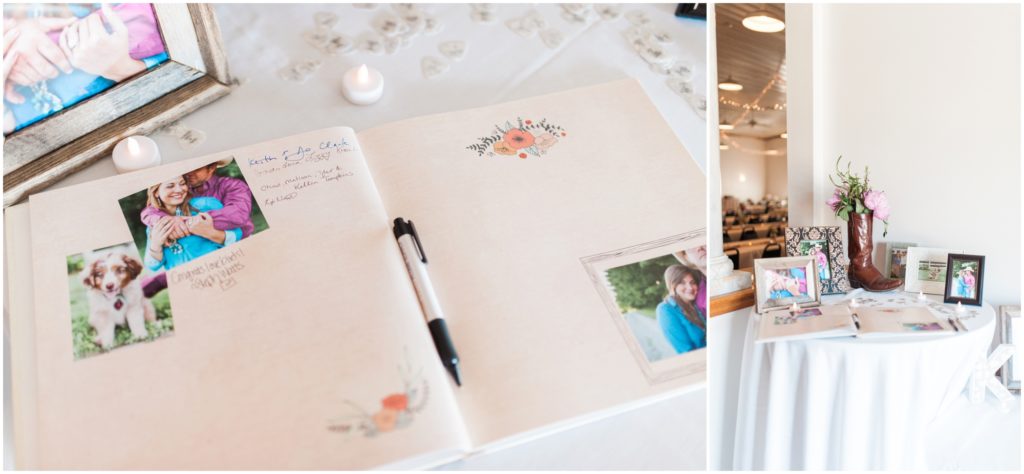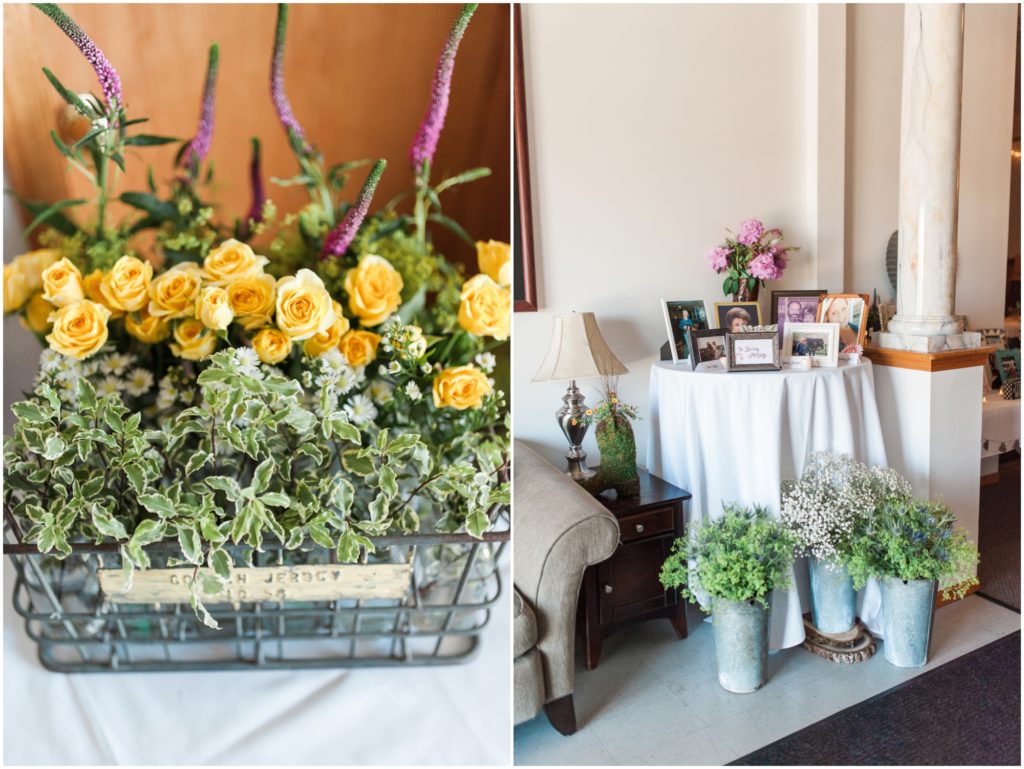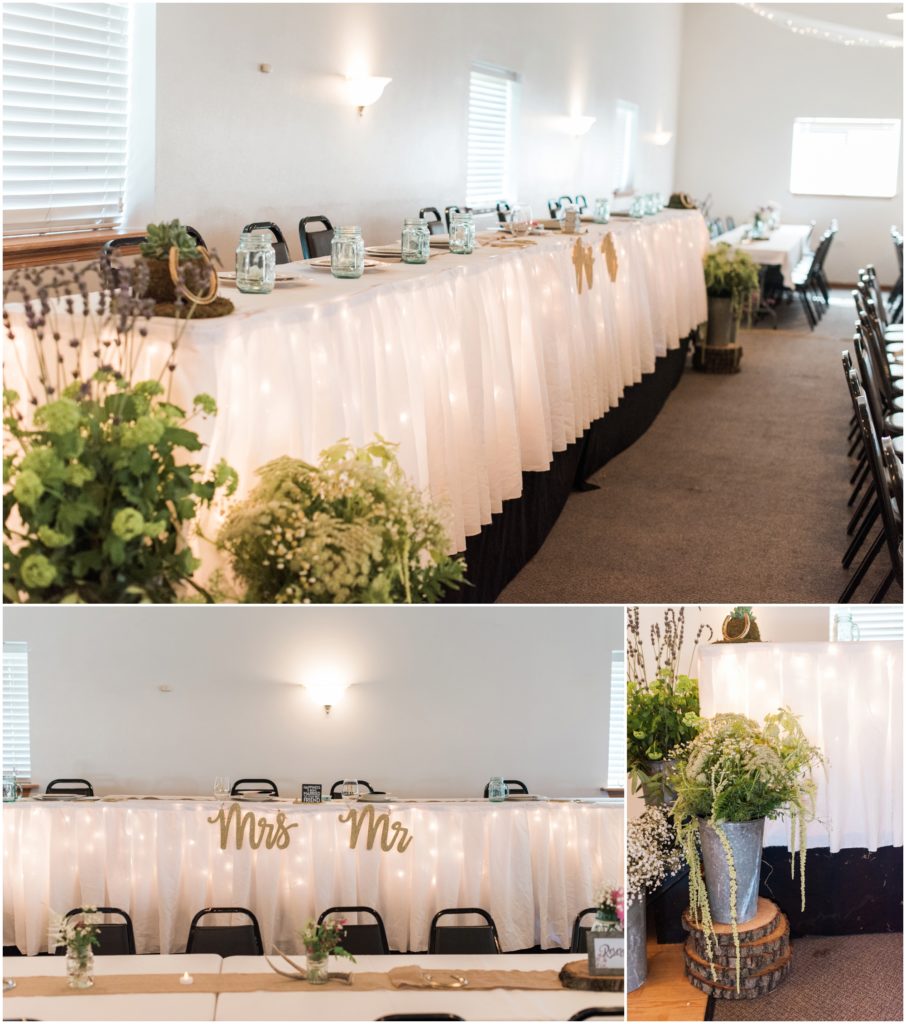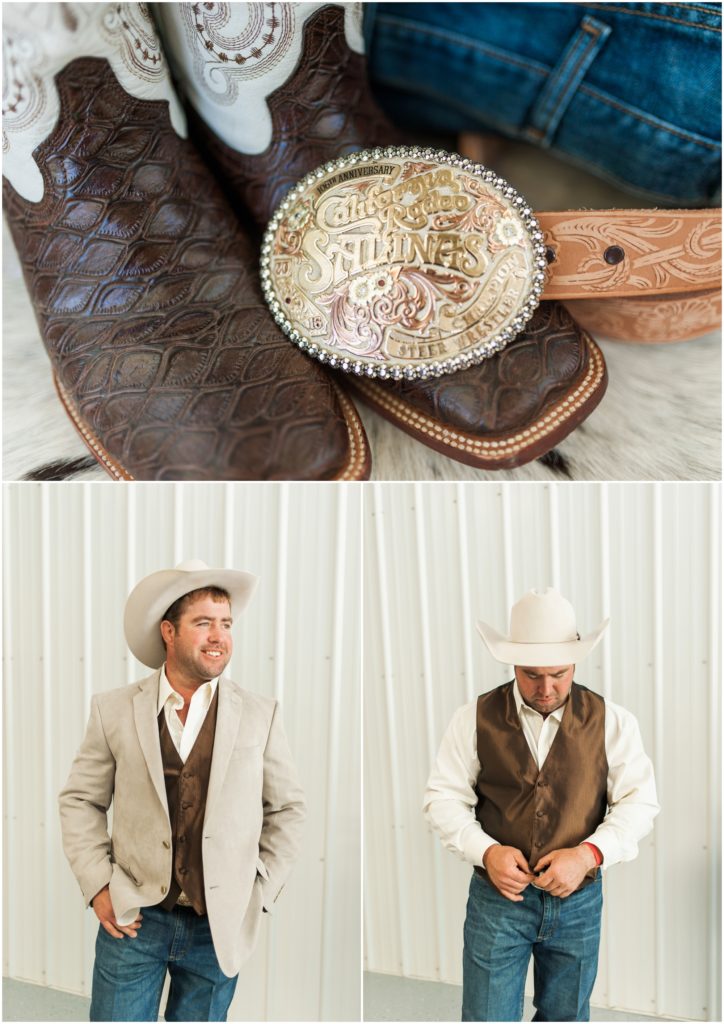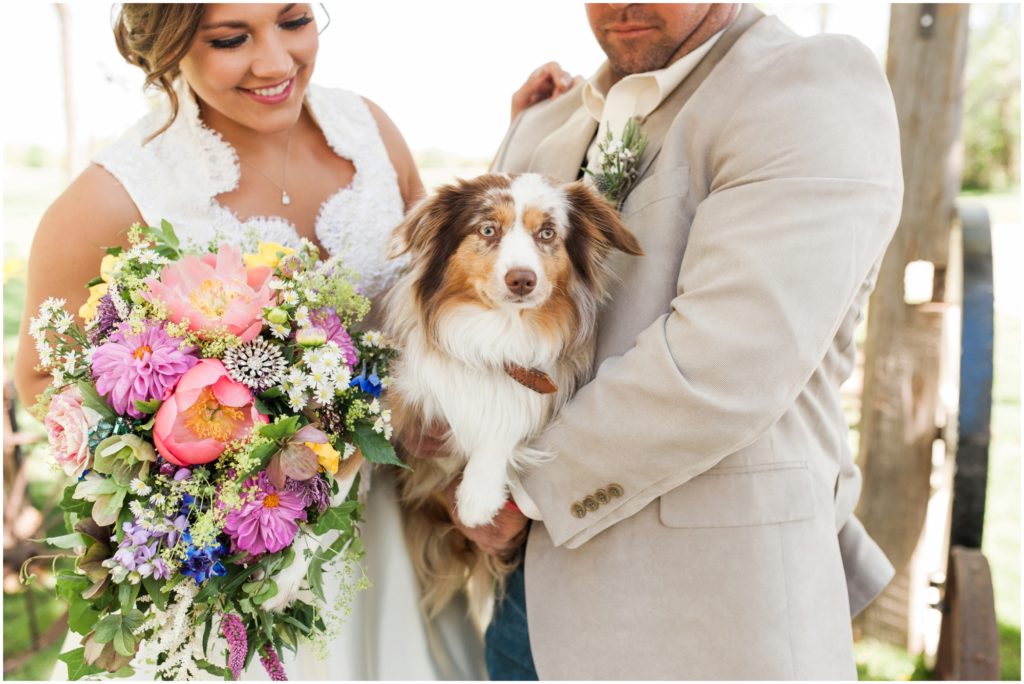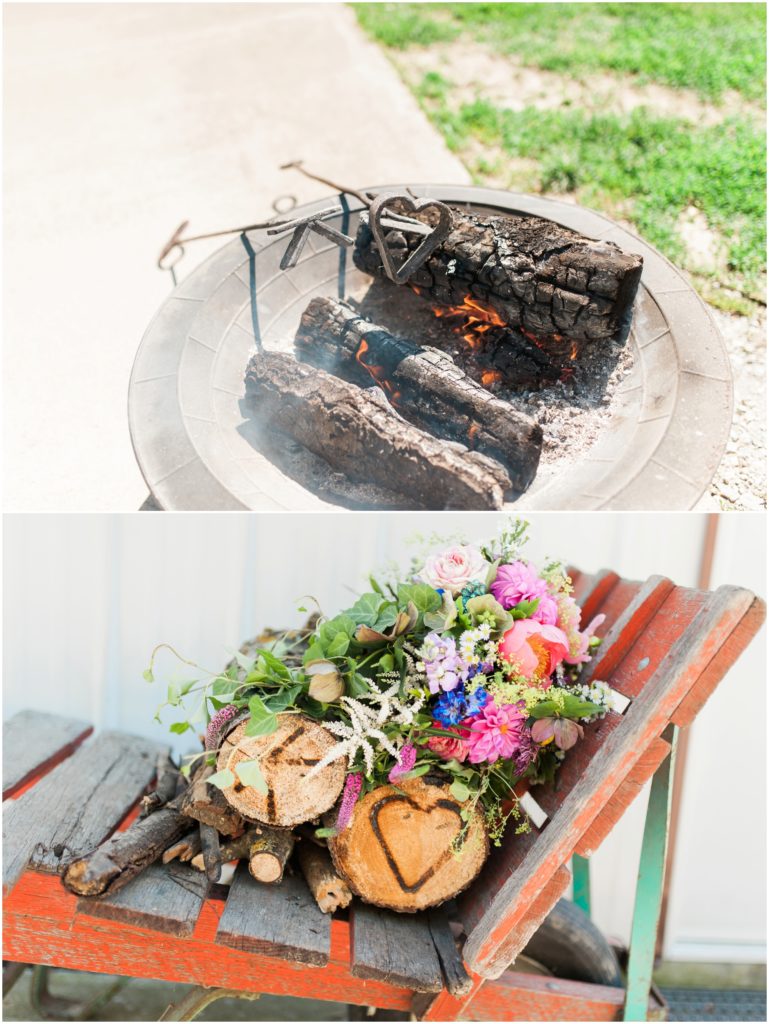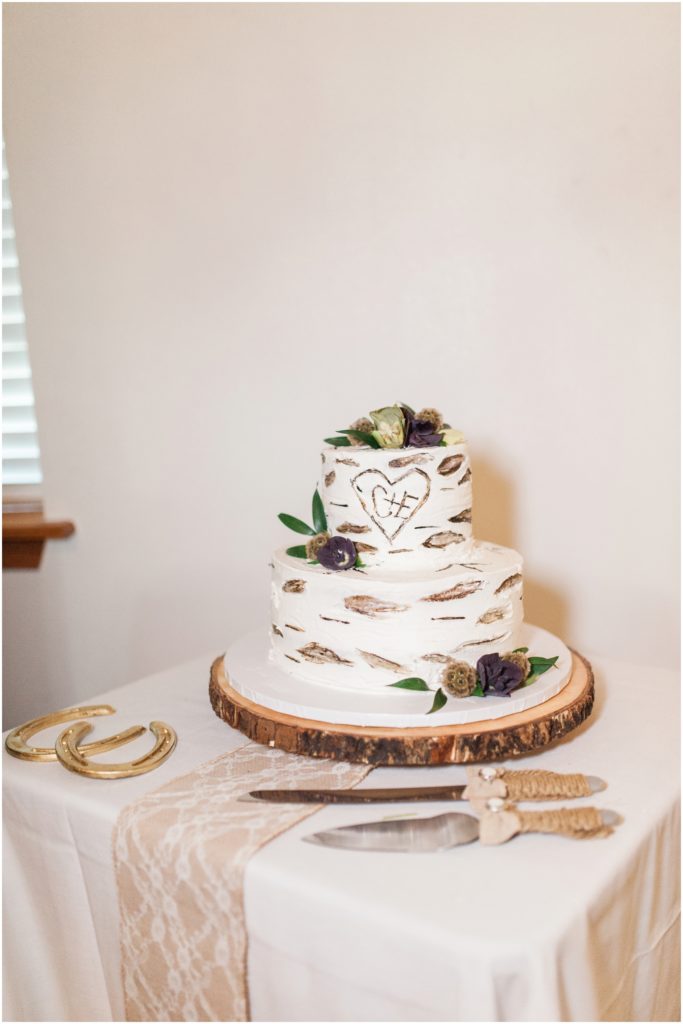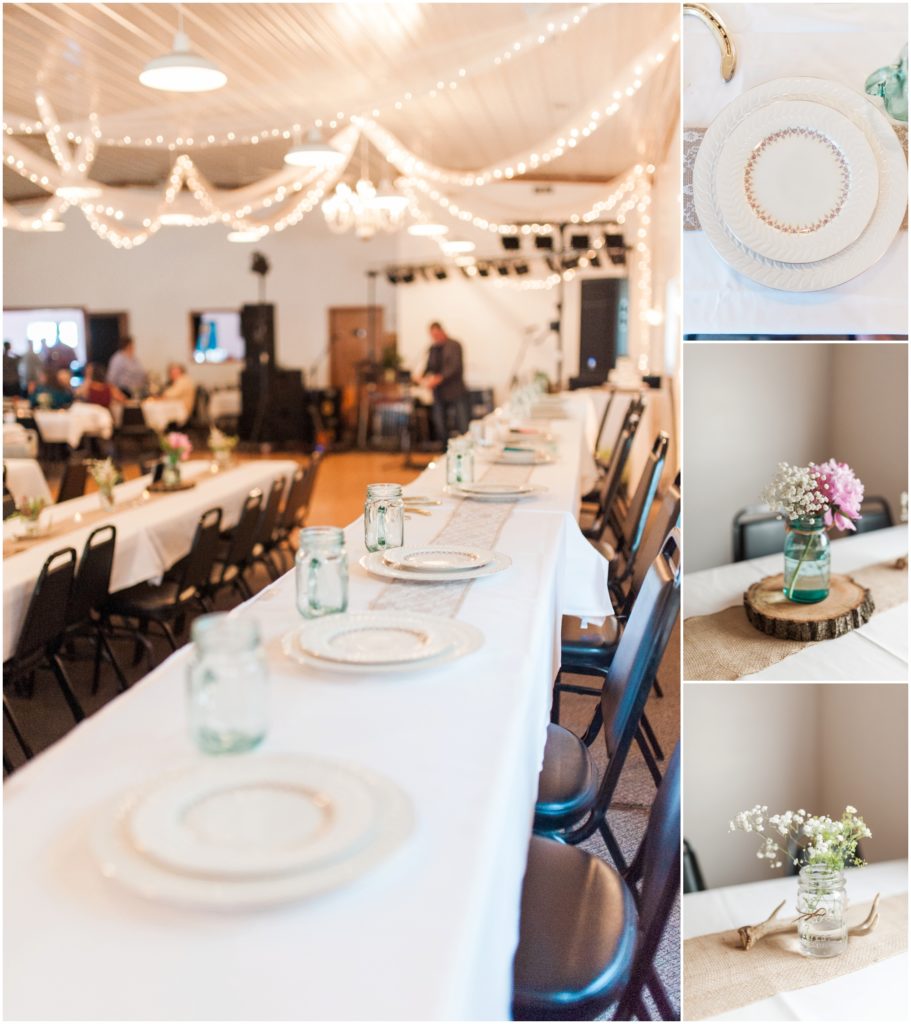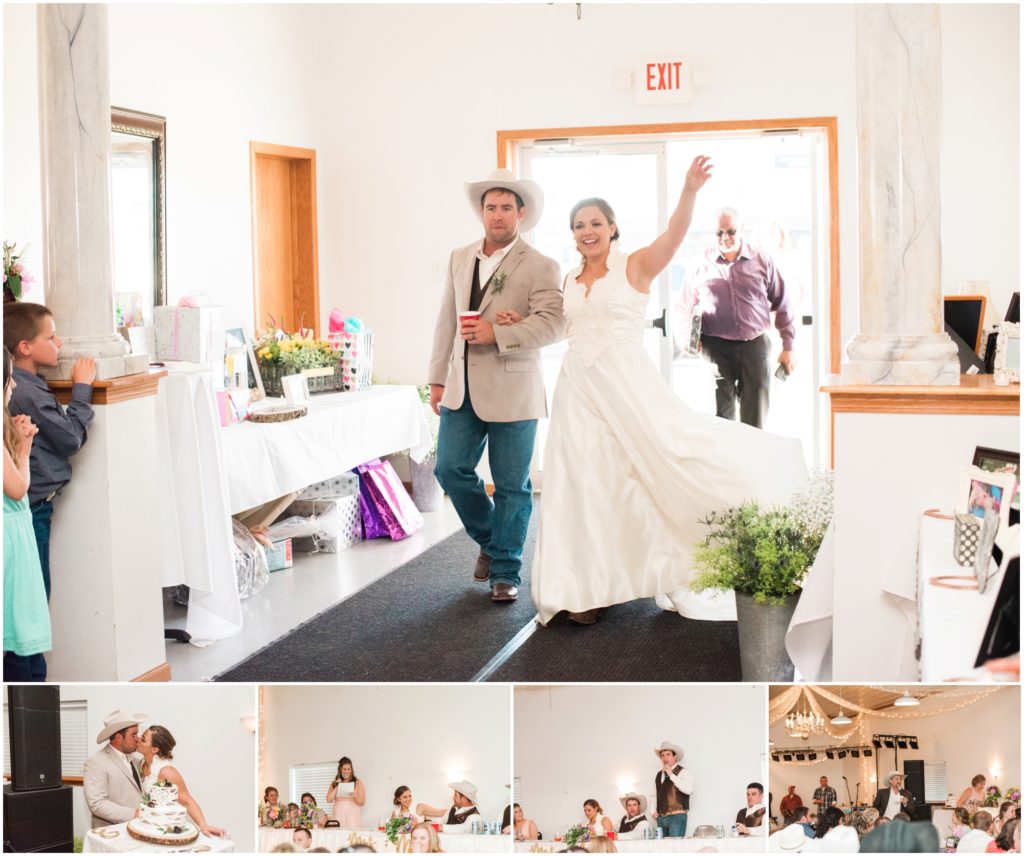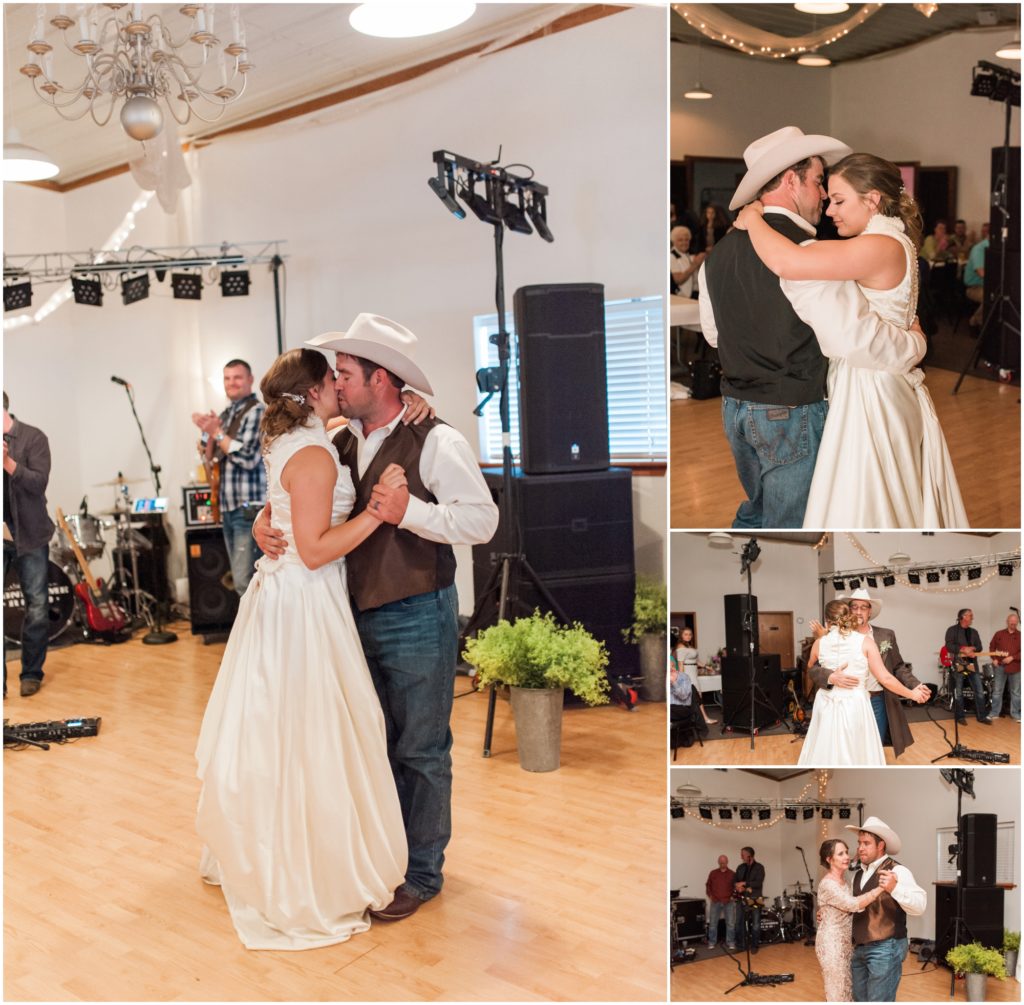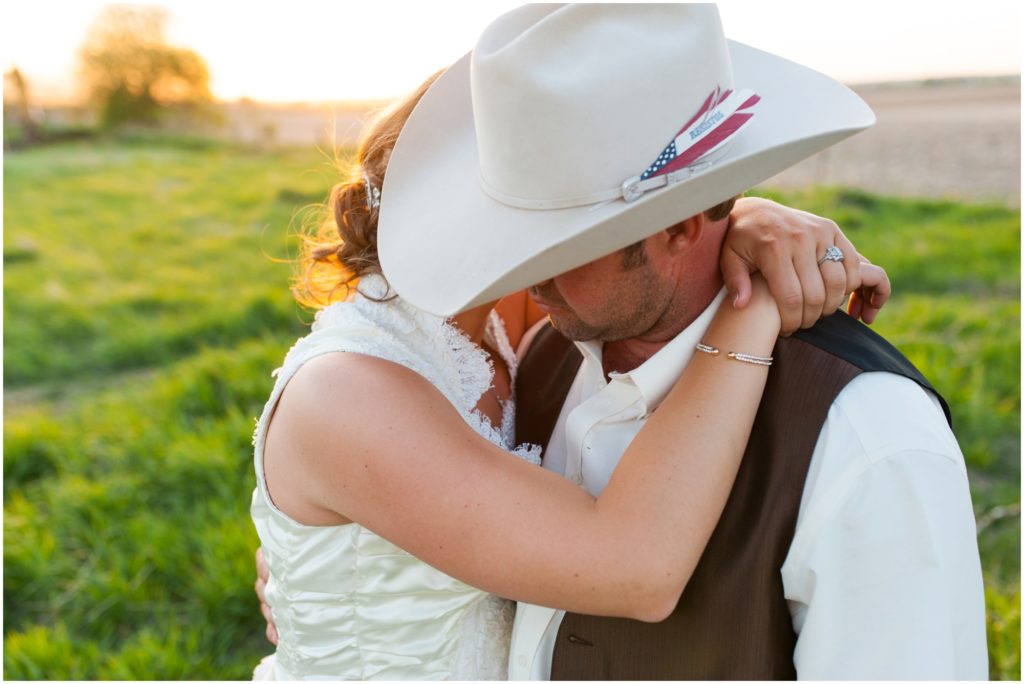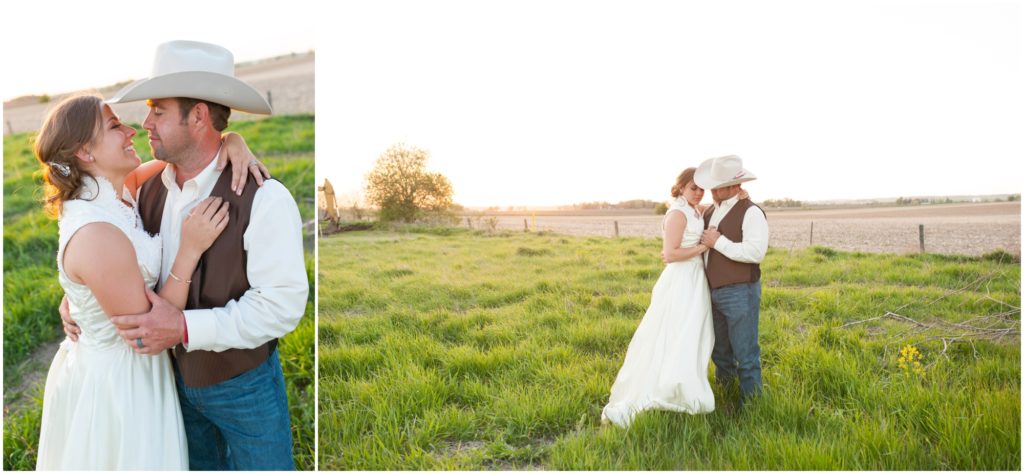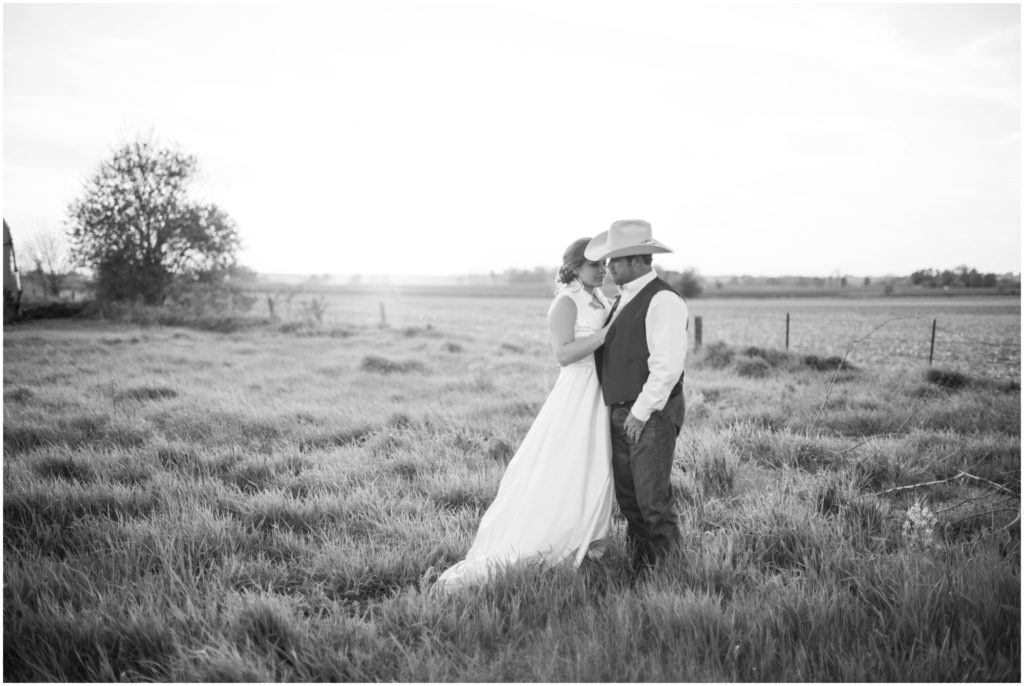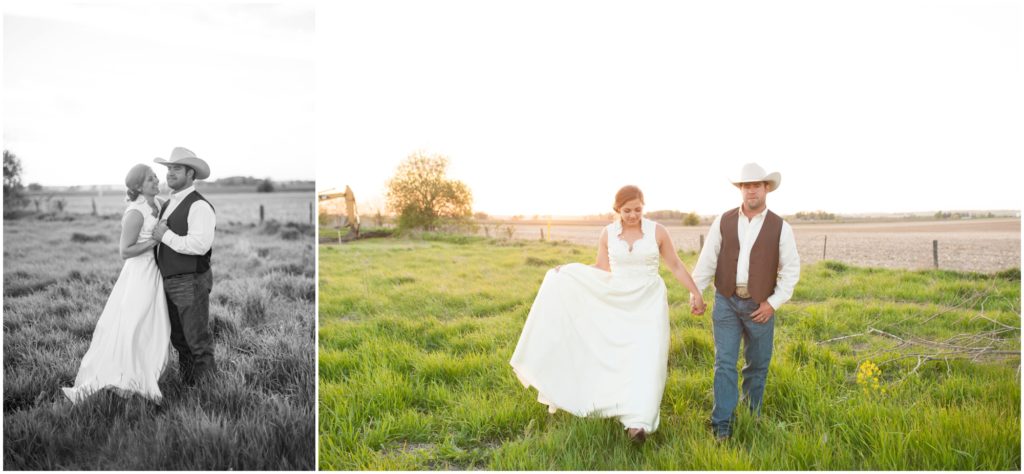 From the bride:
Our wedding invitations were made by a friend, Nicole Bigelow. I wanted them to be western but also have a soft feminine & vintage feel to them as well. We went with a tan cardstock, all black vintage fonts and horseshoes to give it a western flare. The rsvp cards were simple and matched the invitations. We used an off white envelope.
The dress I wore was my mothers. She wore it 29 years before me on her wedding day. I love fashion and unique clothing, but I tend to have expensive taste, so I knew that finding a dress that fit my style, taste and budget would be a challenge. So, instead of spending countless hours, miles and tears trying to find the perfect dress that fit my every wish, I wore one that would mean more to me than the style and price tag.
My mother's dress was beautiful, I remember seeing photos of her in it and although, I never really had pictured myself wearing it, I thought it was beautiful.
My mom got married in 1988, so the style was a bit different then than it is now, but thankfully my mom's taste is more simple than extravagant and her dress was classic and timeless. The dress beautifully combines a pearl beaded lace bodice with high back neck and a scalloped open front neckline with a full button down back and a full bodied floor length satin skirt with a long train. The dress also had long satin sleeves when my mom wore it.
We got the dress out about 2 days after I got engaged and I knew it was the one. It didn't fit me around the waist, so we knew that some altering would need to be done, and I had a few things I wanted to change about the style, but it fit my personality and my style perfectly, plus it was sentimental to me and my mom.
We found a seamstress that was recommended by a few friends, Ganda's in North Liberty, Iowa, and we took the dress to her to have altered. We had her remove the long sleeves and use that satin fabric to enlarge the waist to fit me and she lowered the neckline about an inch, added a few more pearls to the bodice and added some volume under the skirt.
When it was finished it was like it was made for me!
I knew I wanted to wear boots for my wedding and I wanted them to be special. Once I decided to wear my mom's dress and found out how much we were saving by having it altered as opposed to buying a new dress, I decided to spend a little more on the boots. Anyway, I plan to wear the boots over and over – the same can't be said for the dress, so it only makes sense!
While I was filming an episode of Storage Wars in Los Angeles, I visited a friend who lives near San Diego and we did a little shopping. We stumbled upon a shop that had lots of boots and low and behold, I found my wedding boots!
My engagement ring is vintage. It is from the 1920's and a very good friend of mine from Denver helped Cody get the ring. The style of the ring is such that I felt that a band of any kind would only detract from the style and beauty of it, so I elected to not get a wedding band. Instead of a band, I found a beautiful diamond necklace that is very similar in style to my ring and we found earrings to match! I love having another piece of jewelry that means so much to me and that I can wear and have as a keepsake to remember my wedding day.
I also wore a vintage brooch in my hair that I picked up from one of our auctions and the bracelet I wore belonged to my cousin Lindsay who passed away in February of this year. When we helped my aunt go through her things she wanted me to take a few things of Lindsay's to keep for myself and I wanted to wear a piece of her jewelry to my wedding, so she could be there in spirit.
Cody's family has always had part ownership in Bauman's of Mount Vernon – a very old historic men's store in small town Iowa, just a few miles from our hometown. We used them for the men's suit jackets and vests. We wanted something that would pair well with jeans and be a more casual style, so we went with a tan corduroy style jacket, a chocolate brown vest and off white shirts. Cody got all his groomsmen jeans from Wrangler.
Cody wore his 2016 Salinas, CA Champion Rodeo buckle (which NEVER comes out of the showcase unless it's a very special occasion.) He bought new brown boots for the wedding and wore a felt hat.
When we got engaged in June I had originally suggested a fall wedding – I LOVE fall colors and weather. Cody quickly informed me that fall is hunting season and while he could probably skip one year for the wedding, he would never be home for an anniversary. So, I relented and we decided on a spring wedding. The fall color ideas I had went out the window and I decided to focus on spring wildflowers as my central color scheme and vision for my theme.
I wanted my wedding to be whimsical, light, airy, casual, elegant, simple & vintage all at the same time. We had an underlying western theme throughout the entire wedding and I paired that masculine style with lots of feminine touches like lots of wildflowers, lace, blushes, pinks and neutral colors, mason jars, baby's breath and natural nature things like wood, straw, stumps and such. I loved how everything came together in the end – it was the perfect blend of vintage and western with feminine and soft.
I wanted the main colors to come from my flowers, the bright and springy colors of the wildflowers we used. I wanted everything else to be neutral and compliment the colors, but not upstage them. My bridesmaids wore dresses in neutral shades of pink, tan, and champagne and we used a lot of burlap and lace to keep things neutral. It worked perfectly – the flowers were the center of attention and they were gorgeous!
The ceremony was at my parents' acreage where I grew up. We chose this location mostly because it was big enough, and it was FREE! We wanted an outside venue to get married and we didn't want to have to spend a bunch of money on another location. Doing it at my parents' home made set up and prep super easy and the day of was so special because I was getting ready in my childhood home. We had the hay bale seating set up in the center of the yard facing the huge railroad tie arbor that my dad and Cody made surrounded by flowers, drinks, a fire pit, and a porch swing.
The reception was held at Regal Crown in Lisbon, Iowa. We had originally wanted to get married and have the reception in a barn type venue, but size and cost was prohibitive and we didn't find anything that fit our needs, so we started looking for a reception only venue. We only had to look at one place – we went to the Regal Crown, a huge steel building with a bar in the front and a big open area with a dance floor, and we knew it was the right fit for us. The building is beautifully simple with white walls, pretty elegant lighting making it easy for decorating and the price was very reasonable. It was perfect for us. We used long harvest table style seating with a head table at the front and a tent at the end of the building which held the food line and more seating. We had dessert tables along the back wall and a snack table. The entryway was where we had our guest book, gift table, memory table and our photographs. Luann at the Regal Crown was great to work with and I highly recommend using her venue for events.
Bridal bouquet: Elise from E's florals. Featuring beautiful wildflowers, peonies, long vine greens, and about 15 vintage brooches. E also made smaller versions of my bouquet for all my bridesmaids and flower girls.
Elise at E's floral made two gorgeous swags that were hung on the archway at the end of the aisle and she made corsages for grandparents, parents and all the groomsmen.
Down our driveway, we put stumps alternating every 40 feet with a beautiful flower basket from Cody's family's farm, Kroul Farms and along the aisle we had a stump at the end of every row of seating, flanking the aisle with more large flower baskets. On either side of the arbor, we had 3 tall stumps in different heights with more beautiful baskets from Kroul's.
We had 3 mason jars on every table with a combination of wildflowers and baby's breath from E's floral. The mason jars were set on wood slabs cut from Kroul Farms. Our table centerpieces also included antlers and horseshoes, hand painted by Cody's dad Tom. There were also large buckets of gorgeous arrangements placed throughout the reception hall made by E's floral and she made centerpieces with wildflowers out of vintage cowboy boots I took to her. Kroul Farms ordered us cowboy boots and hat planters to decorate with as well.
We put a burlap table runner down the center of every table, on top of that we used one or two wood slabs and 3 mason jars with wildflowers as well as a few antlers and metallic painted horseshoes.
Describe the ceremony and reception and what made it special—-
The whole day was like a fairy tale. Everything went to smooth I couldn't have scripted a better day.
The weather was perfect – we had set up all the outdoor seating and archway in the days prior to the wedding so all there was to do on the morning of, was set out the 50+ flower baskets and ice down the drinks!
The girls all started getting ready bright and early at 8:30 with hair and makeup and of course, mimosas. Our neighbor, Michael who owns a catering business Amos Dean's brought us over oatmeal, granola and yogurt & fresh fruit first thing in the morning! The guys started putting on the final touches in the yard while we were getting ready and Cody's groomsmen started arriving around 11 to start getting ready. They were served chilaquiles for brunch. We spent most of the morning and early afternoon getting ready, there was no rush and it was so nice to be able to relax and enjoy the day and good company. Lunch was served again by Michael – the girls ate Cucumber gazpacho shooter, Mediterranean style chicken skewer, Roasted tomato and white bean bruschetta, Grilled shiitakes and arugula pesto, Bacon Wrapped asparagus & Chips and guacamole while the guys were served house made deer sticks, Pigs in a blanket, swedish meatballs/cherry sauce, buffalo chicken taquitos, & chips and guacamole & queso. Plus we all had Rhubarb crisp, Dulce de leche brownies, & peanut butter cookies for dessert!
We did our first look around 1:30 down by my parents barn, my horse Mudd even made a cameo in the photos. We then started to do formal photos and wrapped those up just as people started arriving for the wedding. I watched from inside the house as people started to be seated by ushers and it was so heartwarming to see everyone come to be there for our special day.
We started the wedding right at 3:00 and everything went exactly as planned! Even my puppy Loretta who was the ring bearer, walked down the aisle with Jack (5 years old) just as perfectly as could be! She was so proud to have a job. Bella, Gabbie and Sophie were perfect flower girls and Sophie took her job very seriously, not leaving the aisle until every last petal was thrown from her basket.
Walking down the aisle with my dad seems like a blur now but it was picture perfect, just like every little girl dreams of. No tears – only smiles!
Our officiant Nick Jedlicka is Cody's cousins husband and Emily's distant cousin made the whole ceremony so special by incorporating both Cody and Emily's interests and details about our lives. He talked about rodeo and about auctioneering and made it very special, something we will never forget.
The ceremony was short and sweet and before I knew it we were pronounced husband and wife and we walked out to the song "American Love Story" by LANCO.
We greeted all our guests as we released them by rows and were able to thank everyone for coming and give hugs – that was special because there was so many people at the reception we weren't able to thank everyone individually for coming.
After the wedding ended the party bus arrived! The bridal party loaded up and we went to Sutliff and had a few drinks before stopping for one more at Whitey's in Lisbon and then arriving at the Regal Crown at 6:30.
We walked in to John Michael Montgomery's "SOLD" and cut the cake right away.
Dinner was amazing! While everyone was eating Laura Bucklin the maid of honor gave her speech and Nic Bedell gave his speech along with Aaron Hadenfeldt. The father of the bride speech was the first time I cried, dad talked about the family members we had lost, a few that were much too recent including my cousin Lindsay who died of breast cancer at 29, just 2 months before.
After speeches Cody and I danced to "Look at You Girl" by Chris Ledoux and then we had our mother son, father daughter dance and Tom grabbed my mom and they danced with us!
After our dances, Cody and I snuck out to do sunset photos in the field nearby and had a few moments to ourselves – the first time all day.
The rest of the night, we partied and danced the night away! Our band Lonesome Road was amazing – they played for 3 hours with only one break and Cody's best man Nic even got up and sang about 7 songs with the band and was a HIT.
Ruzicka's of Solon, IA served our dinner. We had roast beef and stuffed porkchops, with a lettuce salad, sweet corn, party potatoes and bread.
Michael Lipcamon (our next door neighbor) served the guys and the girls food during the day while we got ready for the wedding. He owns a catering business called Amos Dean's. His food was incredible! He tailored a menu specific for both our tastes and he is an incredible cook. 
Cody and I had a cake made for us to cut from HyVee in Iowa City. They made a two tiered almond and hickory nut cake (a family recipe) that was decorated like a birch tree with our initials in it and flowers accenting from E's Floral.
For our guests, HyVee made 200 cupcakes in Vanilla, Chocolate, Red Velvet, Carrot and Lemon. We also ordered 25 fruit pies from HyVee and Emily and Tracy (her cousin) made 25 cheesecakes for the guests as well. Cheesecakes were lemon, turtle, plain, raspberry, and cappuccino.
What advice do you have for brides planning their wedding?—- 
Don't overthink things – yes there is a lot to plan, and yes there will be stress, but things will fall in to place. Don't let it become something that you don't enjoy doing.
Next – keep it simple! It's your wedding, it's going to be beautiful and classy naturally. Keeping the decorations and details simple will help you keep your sanity during set up and prep days, and ultimately will look better, less cluttered and more elegant.
Let people help. Delegate! If there are things people can help with, let them do it – they want to help. Keep the important details on your own to do list, but let your bridesmaids plan your shower and bachelorette. Let you mother in law make shopping trips. It will help you in the long run by eliminating little things on your list.
Save money by doing things yourself. Make things yourself instead of buying. Have a group craft day if you need, or a group baking day if you want to save money on desserts.
CHOOSE something to be lavish about. Be it your venue, your dress, your food, your number of guests, flowers, photographer – pick one or two or a few things that you aren't going to worry about the cost of. Those are your splurges and should be the one or two things that are most important to YOU and will make your wedding special. Then try and find ways to save money on the other things that aren't on that list. I chose to splurge on photography, flowers, and footwear! I saved lots of money on my dress, venue, decorations and printing (we did it ourselves).
Last but not least, hopefully if you've done all these things, your day will go flawlessly and the last piece of advice is to ENJOY THE DAY. Make sure to plan enough time to enjoy every minute and not feel rushed or hurried. Just have fun, relax, indulge and spoil yourself.
What was your favorite moment of the wedding day?—- 
I think walking into the reception hall might have been my favorite moment. I loved LOTS of other parts too, but that moment was the height of the day for me because we were already married and the "logistical" parts of the day were done and from that point on was just FUN. Also because at that point everyone we loved was all together in one place with us and all of our hard work was done and everyone was there to have fun and celebrate us.
Stephanie Marie Photography | Iowa City & Solon Wedding Photographer